Italian coach knows how to keep his squad calm and get back to winning…
All the latest headlines from the newspapers in Spain as Carlo Ancelotti gives an in-depth interview to Marca while Luka Modric eyes a comeback.
– Carlo Ancelotti reveals his recipe.
– On the 'crisis' at Real Madrid: 'In a crisis we look for solutions, not guilty parties.'
– On Cristiano Ronaldo's form: 'You have to talk less about Cristiano and let him play.'
– On his overall connection with the squad: 'I like my relationship with the squad to be on the same level, not of authority.'
– Danilo. Bayern, PSG, City, United and Roma enter the auction.
– Luka Modric. Returns to the group after 95 days without working.
– Alone with Koke. 'It's hard to see your teammates and be unable to do anything to help'. The Rojiblanco icon admits in the longest recovery of his career: 'It was written that I would break down against Real Madrid.'
– Modric: Objective El Clasico. He returned to training with the group yesterday, 95 days without working.
– It's expected he will play some minutes to get ready for March 22.
– Cristiano already just a single goal from Santillana.
– The government fails and the LFP threatens strike. The sports bill isn't now in the Council of Ministers.
– Stielke: 'The whistles to Ancelotti were shameful.'
– Fernando Torres returns to the bench against Almeria. Arda takes his place and Saul continues in the XI as Atletico start to receive fitness boosts.
– Lionel Messi disagrees with Luis Enrique. 'The team has changed after the defeat at Anoeta.'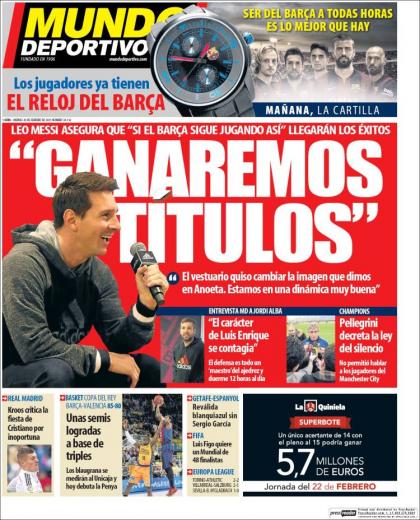 Image courtesy of Mundo Deportivo.
– 'We'll win titles.'
– Leo Messi claims 'if Barca keep playing like this,' they'll reach success. Argentine promises success this season and pinpoints the time things changed: 'The dressing room wanted to change the image we gave at Anoeta. We've found a good dynamic.'
– MD interviews Jordi Alba. 'The character of Luis Enrique is contagious.' The defender is a 'master' of chess and sleeps 12 hours a day.
– Champions League. Pellegrini enacts a law of silence. He doesn't allow the Manchester City players to talk.