Parma's crisis deepens as club is a mess financially…
All the latest headlines from the newspapers in Italy as Andrea Pirlo's magic ensures that Juventus extend their lead at the top of the Serie A table.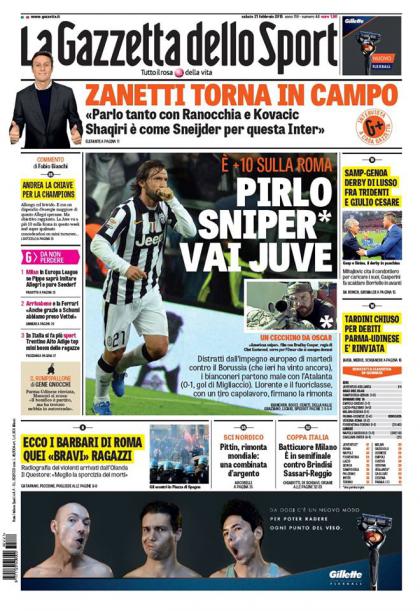 Image courtesy of La Gazzetta dello Sport.
– 'Pirlo sniper, go Juve'.
– Distracted by Tuesday's test with Borussia (who won again yesterday), Bianconeri start badly with Atalanta. However, Fernando Llorente and a world class goal from the midfield maestro complete the comeback and secure all three points.
– Inter legend Javier Zanetti back on the field: 'I speak to Ranocchia and Kovacic a lot. Shaqiri is like Sneijder for this Inter'.
– Samp-Genoa a luxury derby between tridents and Julius Caesar. Mihajlovic cites the Emperor to inspire his players. Gasperini gets Borriello warmed up.
– Tardini closed for debts, Parma-Udinese called off. Parma can't afford the costs of hosting the game, it is postponed.
– Here are the barbarians of Rome, those 'good' lads. Examining the hooligans from Holland. Police: 'Litter is better than death'.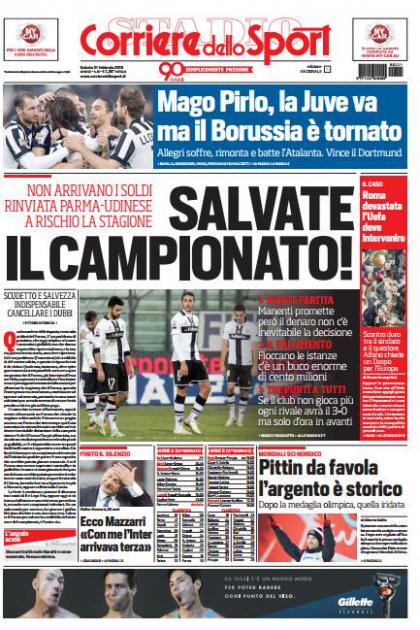 Image courtesy of Corriere dello Sport.
– 'Save the League!'
– Money doesn't arrive, Parma-Udinese postponed and whole campaign is at risk. Manenti promises, but there's still no cash.  Administration requests flood in and there's an enormous 'hole' worth €100m. If the club doesn't play, all their opponents will win 3-0, but only from now on. A real mess at Parma which threatens to have an impact on all the Serie A teams.
– Pirlo magic, Juve go, but Borussia are back. Allegri suffers, fightback to beat Atalanta. Dortmund win in the Bundesliga.
– Rome devastated by hooligans, UEFA must intervene. Bitter row between Mayor and Police. Alfano requests Europe-wide bans.
– Former Inter bossMazzarri: 'With me Inter would've finished third'.
– 'Pirlo 10+'.
– His masterpiece relaunches Juve. Extraordinary goal gives the Bianconeri (under serious pressure from Atalanta, who took the lead through Migliaccio) three points that set the maximum gap from Roma and fire up for Borussia.
– Torino striker Maxi Lopez, goals and records. Even Spain are impressed with him.
– Eto'o controversy over the derby. Gasp: Genoa surprise.
– No money and Parma don't play!
– Mancini-Vidic tension sky high, now there's a real split. Breakdown in relationship between Inter coach and defender.
– Dutch devastation is already a State affair.