Inzaghi must not fail on Sunday or there could be trouble…
All the latest headlines from the newspapers in Italy as AC Milan coach Pippo Inzaghi can't get it wrong against Cesena on Sunday as his job could depend on it.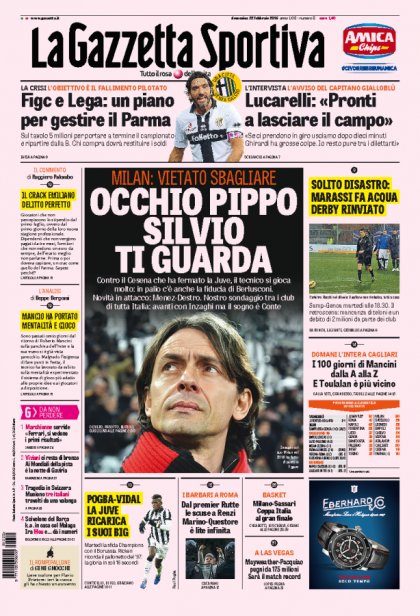 Image courtesy of La Gazzetta dello Sport.
– Watch out Pippo, Silvio is watching.
– Milan cannot get it wrong again. Against a Cesena side that stopped Juve, the Coach gambles with Berlusconi's faith as anything but a victory could spell the end for his time as Coach.
– Changes in attack: Menez-Destro. Our poll around Italy says go forward with Inzaghi, but the dream is Conte.
– FIGC and Lega, a plan to deal with Parma. Objective is controlled administration. On the table are €5m to help them end the season and resume from Serie B. Anyone who buys the club must give back the money.
– Lucarelli: 'Ready to walk off the pitch. If they take us for a ride, we'll end the game after 10 minutes. Ghirardi has to shoulder a lot of the blame. I will stay here even in the amateur league'.
– Usual disaster: Marassi under water and derby called off. Samp-Genoa will be on Tuesday at 17.30 GMT. Background: lack of pitch coverings and a debt of €2m from the two clubs.
– Mancini's 100 days from A to Z.
– Pogba-Vidal, Juve recharge their big stars. On Tuesday in the Champions League against Borussia. Ricken remembers his '97 lob, glory in just 16 seconds.
– Barbarians in Rome: Rutte apologises to Renzi, Marino-police infinite row after the Feyenoord fans caused chaos in the city on Thursday.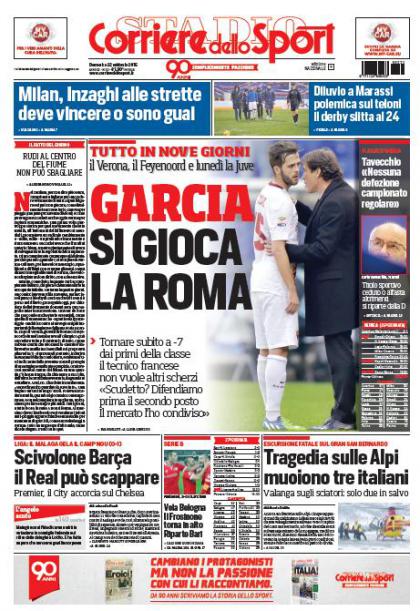 Image courtesy of Corriere dello Sport
– Rudi Garcia gambles with Roma.
– All in nine days: Verona, Feyenoord and Juve. Plan is to immediately close back within seven points of the leaders. French tactician doesn't want any more surprises: 'Scudetto? Let's defend second place first of all'. 'I agreed with the transfer strategy'. Vital week in Roma's season, and essentially they need three wins to get back on track.
– Milan, Inzaghi on edge, a win or there's trouble.
– Marassi thunderstorm, controversy over pitch covering, derby moved to Feb 24.
– Tavecchio: 'The campaign will be fair'.
– Barça slide, Real can break away. Premier League, Man City close on Chelsea.
– Bologna soar, Frosinone back up and Bari revived.
– Lippi: 'Juve to the quarter-finals. Vidal comeback'.
– 'I am reminded of my first challenge against Dortmund in 1995: the Bianconeri are stronger than Borussia and can become a wild card in the Champions League'.
– 'The Chilean will get back on track. Tevez will be decisive'.
– One embarrassment after another. After Parma-Udinese, Sampdoria-Genoa is also called off. Heavy rain at Marassi had already been predicted, but pitch wasn't protected anyway.
– Dear Inzaghi, if you don't win then goodbye Milan. Rossoneri in crisis for 10 rounds: only a victory can save Pippo's bench.
– Vicenza super, infinite Spezia, Entella of steel.