Mistake from Alves, but Enrique doesn't want to blame him…
All the latest headlines from the newspapers in Spain as Barcelona suffer a costly defeat which hands the advantage to rivals Real Madrid to break away at the top of La Liga.
– 'What a gift!'
– Malaga's perfect defence knocks Barca and gives a hand to the leader. Grave error from Alves for Juanmi's goal.
– Ready for take-off. Real Madrid can open another four-point gap.
– Iker's 500th La Liga game. Lucas aims for the XI.
– Antoine Griezmann gives them wings. Two goals from the Frenchman and another from Mandzukic (penalty) launches Atletico.
– Barca go down.
– Juanmi scores in the seventh minute. Luis Enrique: The defeat might be deserved.
– Lionel Messi and Neymar don't shoot on goal even once.
– Casillas: 500 games in La Liga. Carlo Ancelotti: I have a contract until 2016 and nothing is new. Real Madrid boss ready to continue and leave extension talks on hold.
– Griezmann clings to La Liga. Atleti win easily with a goal from Mandzukic and a double from the Frenchman.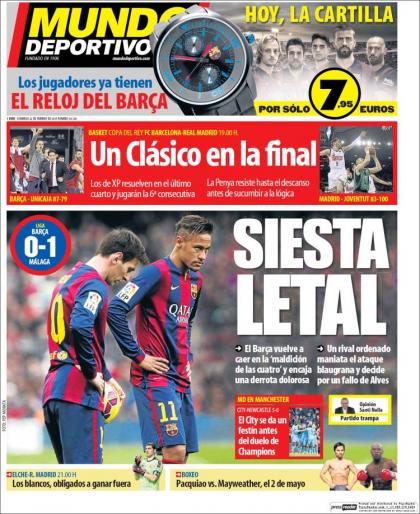 Image courtesy of Mundo Deportivo.
– Lethal siesta.
– Barca return to the 'curse of 4pm' and experience a painful defeat.
– A well-organised rival stops the Blaugrana attack and it's decided by a mistake from Alves. However, Luis Enrique keen to not blame the Brazilian for the loss and admits that the team maybe deserved the loss
– City have a feast before the Champions League duel.
– Los Blancos, obliged to win away.