Juve open up nine-point gap ahead of Dortmund clash…
All the latest headlines from the newspapers in Italy as AC Milan defeat Cesena which ensures that Pippo Inzaghi's job as coach is safe for now.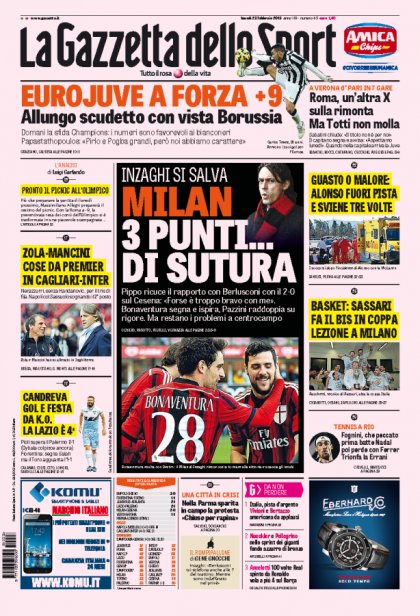 Image courtesy of La Gazzetta dello Sport.
– Pippo Inzaghi saves himself, three stitches for Milan.
– Pippo sews up his relationship with Milan owner Silvio Berlusconi: "Maybe he's too good to me".
– However, problems remain in the centre of midfield and the display was far from convincing in the 2-0 win over Cesena.
– EuroJuve at +9, Scudetto lead extended ahead of Dortmund.
– Zola-Mancini, a Premier League clash for Cagliari-Inter.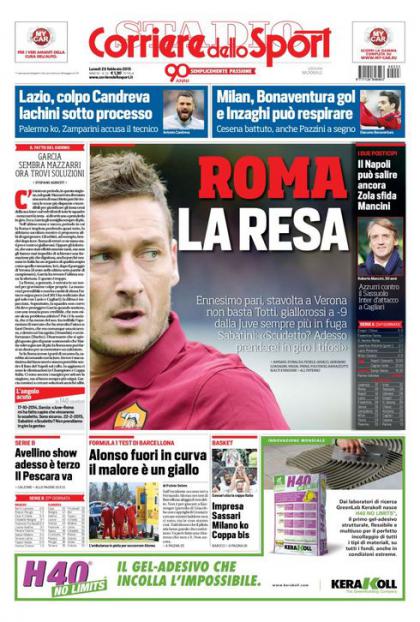 Image courtesy of Corriere dello Sport.
– 'Roma, the surrender'.
– Yet another draw, this time with Verona, Francesco Totti is not enough as Juve stretch their lead at the top of the table and so it may be time to concede defeat in the title race.
– Roma director Walter Sabatini: "Scudetto? Now I'd be taking the fans for a ride".
– Lazio, Candreva hit, Iachini under trial. Lazio seal win thanks to wonder strike from Italian international, although he injures himself in celebration.
– Milan, Bonaventura goal and Inzaghi breathes. Cesena beaten, Pazzini on the scoresheet.
– Juve face Dortmund with a 9 point lead in the Scudetto race, with the wind behind them.
– Torino great draw in Florence, Vives up until the end.
– Roma surrender, bye Scudetto. Sabatini: "Garcia stays, but we are not challenging for first anymore".
– Inzaghi saves himself: "Berlusconi is good to me."