Could Jose Mourinho really be right about a Premier League conspiracy against Chelsea?
Jose Mourinho has gotten himself into trouble recently for claiming there's a conspiracy against Chelsea in the Premier League, but the Blues boss could be right, according to the Daily Mail.
SEE MORE:
Chelsea Transfer News
Mauricio Pochettino Slams Mega-Flop Roberto Soldado After Latest Tottenham Blunder
Inside Source Reveals Arsene Wenger's Rage After Arsenal's Champions League Humbling
Chelsea have received just two penalties in their 26 Premier League games this season, with a rate of one penalty every 13 games.
This is far worse than the likes of Arsenal or Manchester City, whose seven penalties so far give them an average of 3.7 games per penalty. And even though Liverpool's is a slightly less impressive 6.5 games per penalty, they are still doing far better than their London rivals.
This is in stark contrast to the Champions League, where Chelsea have a far superior rate of 1.8 games per penalty. Mourinho's side have been awarded four penalties in Europe this season, despite playing just seven games.
Liverpool and Manchester City's rate in Europe is not dissimilar to their rate in the Premier League, with a difference of just 0.5 and 0.2 respectively. Arsenal have suffered more in the Champions League this season, receiving just one penalty in their seven games.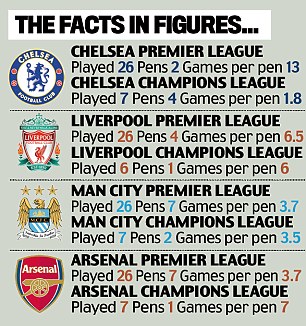 Chelsea have had their fair share of penalty shouts turned down this season, with a couple in particular looking rather harsh. There is hardly enough evidence to prove an actual conspiracy, but it is perhaps understandable that Mourinho feels somewhat hard done by.