Belgium ace must improve to compete with Lionel Messi and Cristiano Ronaldo. 
Chelsea star Eden Hazard has been mooted as a potential challenger to Cristiano Ronaldo and Lionel Messi's dominance over the Ballon d'Or, yet the winger has much to learn before he can compete with the world-class duo.
Squawka have explored the stats of Tottenham Hotspur midfielder Christian Eriksen and the Blues ace ahead of Sunday afternoon's Capital One Cup final – in a game that is almost impossible to call – illustrating how Hazard can improve his game by learning from the Spurs man.
READ MORE:
Chelsea news
Tottenham news
Chelsea & Tottenham Combined League Cup Final XI, With Costa & Kane Upfront
Neither Hazard nor Eriksen have reached double figures in Premier League goals so far this season, but the key stat belongs to the Tottenham playmaker – with his five goals from outside the box, as well as two netted from free-kicks: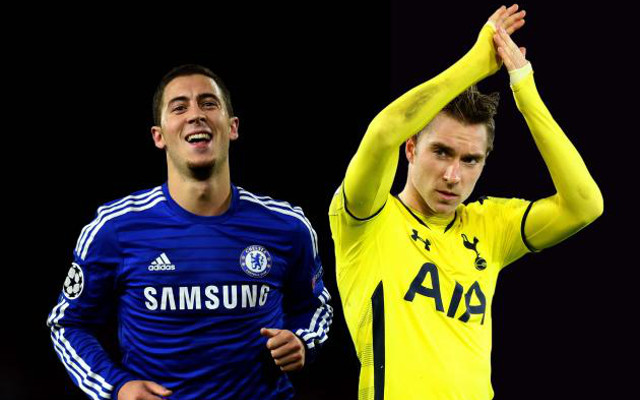 If the 24-year-old is to up his game and compete with the very best – he must begin to try his luck from 20 yards, and work on becoming Chelsea's set-piece specialist, of which neither is an area Hazard is renowned for – or extraordinarily is even trying his hand at.
As Squawka suggests, Hazard needs to start bringing speculative efforts to his performances. Eriksen has attempted a huge 51 strikes from outside the area, in comparison to Hazard's 17: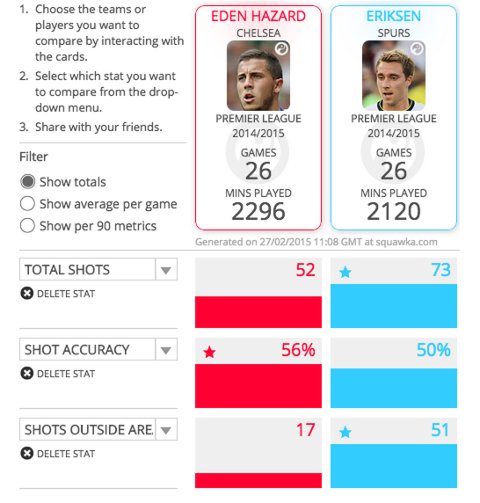 Such stats do not suggest that Eriksen is superior to the Blues starlet – if most had to choose between which of the pair they would rather have in their side – Hazard would be a favourite.
Rather, the Belgian must begin to adapt his game; as it stands the former Lille winger is miles off Messi and Ronaldo.