The higher the wages, the more outrageous the outfit it seems..
Professional footballers are an odd bunch and as salaries have gone through the roof, these rare species have at times attempted to out-do each other in the competition of who can appear in the most hideous outfit.
When taking part in question and answer sessions, players are often asked which of their team-mates is the worst dressed and there are usually  few candidates in each squads.
We have therefore decided to construct a list, an easy task mind, of the worst dressed footballers over the past decade.
SEE MORE:
Jose Mourinho's Amazing Cup Final Record Shows Chelsea Were NEVER Going To Lose Against Tottenham
(Video) Chelsea Star Eden Hazard Not Impressed with Quality Of Wembley Champagne Following Capital One Cup Win Over Tottenham
Arsenal, Liverpool & Man United Set £21m Asking Price For World Cup Winner
1. Ricardo Quaresma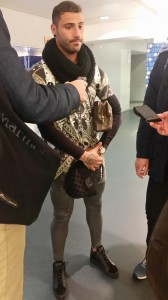 The former Chelsea and Barcelona wide-man bravely appeared in the mixed zone last night following Porto's 3-0 victory over his former club Sporting Lisbon. Where do you start, the snood? The mega-tight jeans, or the awfwardly positioned pouch? Ricardo Quaresma is worthy of any such list.