Reds boss deserves huge praise for stunning turnaround.
When Liverpool were beaten 3-0 by Manchester United towards the end of December they were in full-blown crisis: defeat at Old Trafford left the Reds 10th in the Premier League table and with already ten defeats for the campaign.
SEE ALSO:
Team Of The Weekend, Featuring Liverpool Star Coutinho & Victorious Chelsea Duo
Coutinho For £8.5m vs Nasri For £25m & Other Liverpool Bargains Who Outshone Man City's Expensive Flops
Liverpool news
The blow of conceding the title the way they did against Manchester City the previous year had clearly affected this group of young players, as had the departure of star striker Luis Suarez, not to mention the lengthy injury to another key forward in Daniel Sturridge. Liverpool had lost confidence, momentum, and a strike pairing worth a combined 55 goals – few managers come back from repeated blows like this.
If there's one manager Rodgers has been compared to, however, it is the United legend Sir Alex Ferguson, who himself had a difficult start to contend with when he took over at Old Trafford. We all know the Scot turned things round, however, and revolutionised the club after being given the time to do so. In those days that was not so unusual, but in the modern era – when Sam Allardyce is second to Arsene Wenger in the longest-serving managers in the Premier League on just over three years – it is certainly a rarity.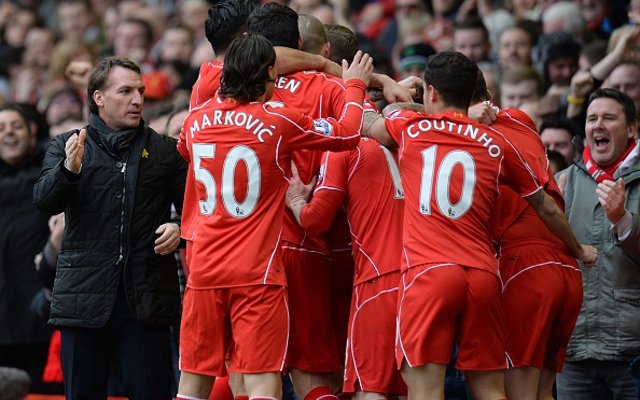 Rodgers clearly has a similar aura about him. The Northern Irishman worked wonders with previous club Swansea City, and made a far quicker impact than could have been anticipated at Anfield, becoming the victim of his own success as he raised expectations with a serious title challenge last season, not to mention the superb attacking football played along the way.
Now, with yet another victory this weekend over reigning champions Manchester City, the Reds are on an incredible run of 13 wins, five draws, and two defeats in 20 games. Rodgers' side are fifth, only two points behind rivals United, something which looked unthinkable after that one-sided scoreline at Old Trafford earlier in the season.
Liverpool may have bowed out of two cup competitions in that time – the Capital One Cup to eventual winners Chelsea, and the Europa League to Besiktas on penalties – but they still have the FA Cup as a serious possibility this season as well as a likely top four finish. Given the huge task on the manager's hands in the summer and the dour mood of the squad that he must have had to contend with when they slumped in mid-table, this could be seen as an almost miraculous turn-around.
All of this as well whilst having to deal with Mario Balotelli – one of the most difficult personalities in the game. The £16m Italian striker has only managed four goals and clearly hasn't been able to replace Suarez, but Rodgers has tinkered his tactics to get his side looking much improved in a 3-4-3, with the likes of Raheem Sterling and Philippe Coutinho shining and contributing more in the way of goals.
And yet a look at United – another team in transition under Louis van Gaal this season – who are still not really making things work as they look to recover from their own crisis last season. Who would've thought that 3-0 win would be such a false dawn?