So modest! Shunning those stereotypically fancy motors…

Ashley Barnes may just be one of the Premier League's most modest stars.
SEE MORE:
(Images) Carrie Underwood WAG Gallery – Stunning Singer Sizzles In Hot Bikini Shots
(Videos) Tim Sherwood Reacts To His First Win As Aston Villa Boss In Typical Tim Sherwood Fashion
(Image) First Photo Revealed Of Adam Johnson And The 15-Year-Old He Bedded
The Burnley man has reneged on the footballing stereotype of flash cars and big money by splashing out just £11,000 on a Smart Car.
The modest and compact motor is said to have brought hilarity to Barnes' Clarets teammates with Steven Reid and Michael Kightly both said to have laughed at the striker when he arrived ahead of their match with Swansea this weekend.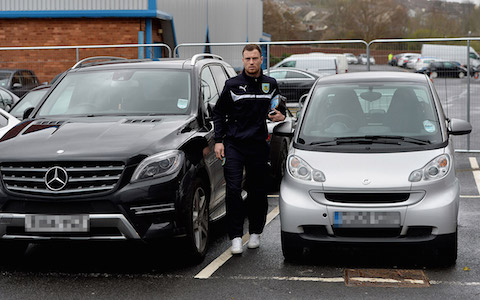 Strike partner Danny Ings, for instance, arrives to training in his £120,000 Audi R8 Spyder convertible with others in the squad arriving in a whole host of continental cars including; Maseratis, Mercedes and Audis.
And the Sun quotes a Burnley insider as saying many of his teammates thought it was all just an elaborate joke at first: "Ashley got a bit of stick from the other players when he first turned up driving the Smart car. They thought he was having a laugh.
"It's not the obvious choice of motor of a Premier League footballer, but he's more than happy with the wheels and likes to do his bit for the environment.
"But he's had it for a while and he's happy with it. It runs well and it does the job so why would he get rid of it!"
The Smart car has a paltry one litre engine with a top speed of 90mph.
Barnes might be glad to be in the headlines for something other than his football after facing the ire of Jose Mourinho over recent weeks.
The Burnley man has been continually criticised by the Chelsea boss over a tackle on Nemanja Matic he has described as potentially career ending.