Could Premier League founding members Aston Villa and Everton really go down this season?
Every so often a team gets dragged into the Premier League relegation battle that most football fans deem too big to go down, and yet come May, that same team have fallen through the trap door, and out of the big time.
READ MORE:
Premier League Transfer News
Five Of The Greatest Premier League Escapes, Including Shock Results At Manchester United – Can Tim Sherwood Steer Aston Villa to Safety?
Everton Star Supports Under-fire Manager As #MartinezOut Trends
This season, both Everton and Aston Villa find themselves in real danger, and despite being members of the top flight since its inception in 1992, look like they are well in contention to finish in the bottom three come the end of this campaign.
Should they go down, they will join an ever expanding list of sides who shocked everyone by not collecting enough points to keep their heads above water. Here is the top five…
Nottingham Forest (1992/93)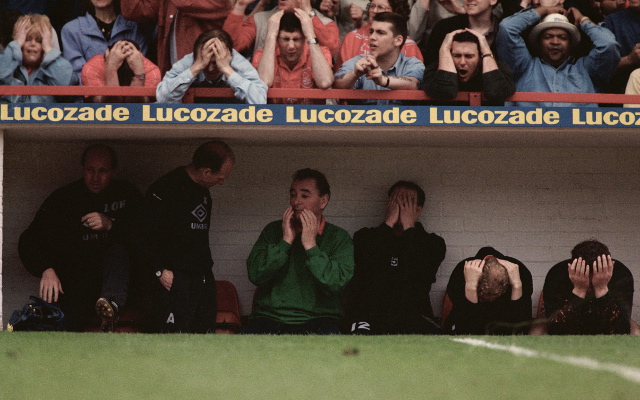 It was the inaugural Premier League season, and Brian Clough's last, when Forest were relegated. The two-time European Cup winners finished bottom of the table, and when asked to sum up the reasons for relegation, Clough eloquently suggested, "We're not good enough."