Villa's FA Cup victory marred by supporters' behaviour. 
In ugly scenes, Aston Villa's 2-0 victory over West Bromwich Albion in the FA Cup on Saturday evening was spoiled by the appalling behaviour of both sets of fans.
With the pitch invasion grabbing the headlines, one Villa fan reveals there was even more shock in the stands.
READ MORE:
Aston Villa news
West Bromwich Albion news
Aston Villa Face FA Probe After West Brom Pitch Invasion
Mark Villers, an Aston Villa follower, watched the game from the North Stand, and reveals he was struck on the head by a chair thrown by a Baggies fan in the stand above.
According to Villers, away supporters were ripping out seats from the stands, and hurling them down – and this was the resulting injury: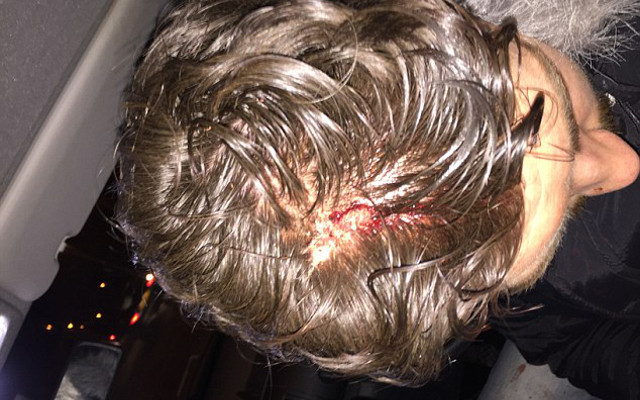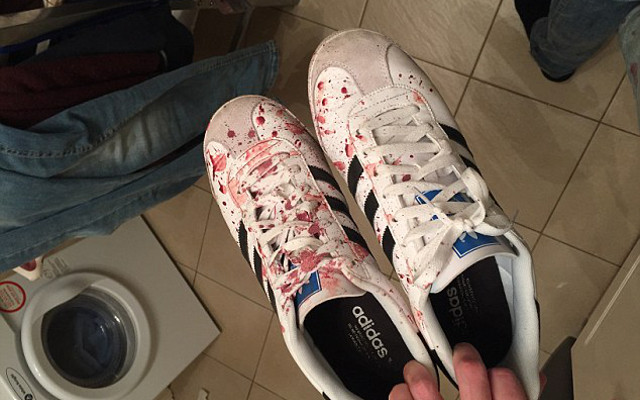 The 20-year-old, who needed to have his hair cut, and the nasty gash glued closed, was seen to by Villa's club doctor, and had this to say, "It was mental," Villers was quoted by the Daily Mail. "We could see them throwing down the chairs after we scored the second so we walked down to by the advertising boards. We didn't think they'd be able to reach.
"All of a sudden, everyone shouted, "Duck" and stupidly I turned around. It literally hit me bang on the forehead, head on.
"It was a shock but I didn't think anything of it. I carried on cheering. Then I felt the blood pouring down my face. It was really bad. I've never bled that much. It was pouring out all over my clothes. It was a bad cut.
Villers added, "I didn't need to go to hospital. I went to the stewards and they ushered me down the tunnel where the paramedics were. They held the tissue on and then the Villa doctor came, took me into the medical room, and glued it up for me."
"The pitch invasion is bad but I don't think it's as bad as people throwing chairs."