Arsenal must revive old passion against Man United.
As Arsenal travel to Manchester United for this Monday's FA Cup quarter-final tie, what better time for this Gunners side to rediscover a key ingredient that made them a force to be reckoned with in their Invincibles season of 2003/04.
SEE ALSO:
Arsenal Boss Arsene Wenger Rules Two Stars Out Of Manchester United FA Cup Clash
Kroenke Ready To Sack Wenger & Appoint Henry As Arsenal Boss This Summer
Arsenal transfer news
Once regarded a tough team that could win ugly as well as play some of the finest attacking football in Europe, Arsenal now go into this game against a pretty average United side as massive underdogs. While Arsenal legends of old put every ounce of sweat, blood and tears into this heated fixture, its recent incarnations have been nothing but pushovers.
Arsene Wenger's side have an absolutely dreadful record in the big games, and against United in particular it seems, having not enjoyed a victory against their next opponents since the end of the 2010/11 season.
Since then, it's played seven, drawn two, lost five. Why is it that this current crop of players seem so far away from that team of Keown et al that seeked to batter Ruud van Nistelrooy after that firey 0-0 draw at Old Trafford?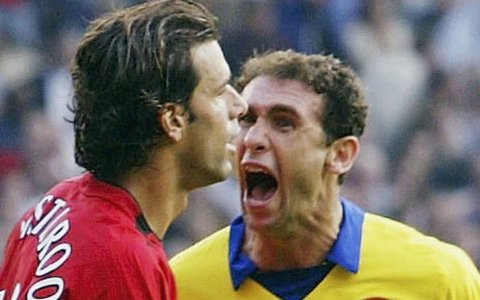 Somewhere along the way, Arsenal quickly abandoned too many of the players that made up the spine of that hugely successful team. Keown left the Gunners that following summer, followed by Ray Parlour. Patrick Vieira left a year later, and fast forward just three years and the likes of Edu, Lauren, Ashley Cole, Sol Campbell and Robert Pires were all gone too. Financial restraints of building the Emirates Stadium meant Wenger was in the business of selling his big names and rebuilding the team almost from scratch, leading to not only a side of inferior quality, but one that had lost its identity.
Something United know all too well from having long-serving greats such as Ryan Giggs and Paul Scholes in their ranks for so long, is that it is vital to pass down what made the previous generations great onto the next group of players, but unfortunately for Arsenal, they now have a squad that has little in common with those that truly learned how to hate their opposition in the early 00s.
How much better equipped would they have been for having the likes of Vieira, Cole and Campbell around a little longer, in the way that those players learned from battlers like Keown, and before him Tony Adams?
At the time, the brawl at Old Trafford was hugely criticised for a gross act of unprofessionalism, but for Arsenal fans, and even Wenger himself, it remains one of the most cherished memories of that unforgettable season. Chelsea have been so successful under Jose Mourinho due to the manager's determination to create an us vs them mentality, ie to make themselves utterly hated by all that they come across.
Arsenal, meanwhile, have become likeable losers – a team that plays great football but never turns up when it counts. What their fans would give for another Keown moment as they square up to the old enemy again on Monday night.