Arsenal have earned a semi-final against Bradford or Reading
Arsenal are into the final four of the FA Cup, where they will play either Bradford or Reading for a place in the final, after a Danny Welbeck goal earned Arsene Wenger side a 2-1 victory at Old Trafford.
READ MORE:
Arsenal Transfer News
(Video) Man United 0-1 Arsenal: Monreal Goal Puts Gunners Ahead After Tremendous Skill From The Ox
(Video) Man United 1-2 Arsenal: Welbeck Scores Goal Against Former Club After Shocking Valencia Backpass
Here's how the Arsenal players got on:
GK- Wojciech Szczesny 6
Made a couple of decent saves, but looked nervous with both his positioning, and dealing with crosses, one in particular had the Pole in trouble, as he flapped at a fairly regulation cross. Luckily, the ball stayed nearby, allowing him to clear up the mess. Had a much more solid performance in the second half
RB- Hector Bellerin 6
Was in trouble early on, as he collected a yellow card for a late challenge on Ashley Young, but he looked lively and made a couple of exciting runs into the box, and defended well. Was taken off in the second half after he avoided a second yellow for a tough challenge.
CB- Per Mertesacker 7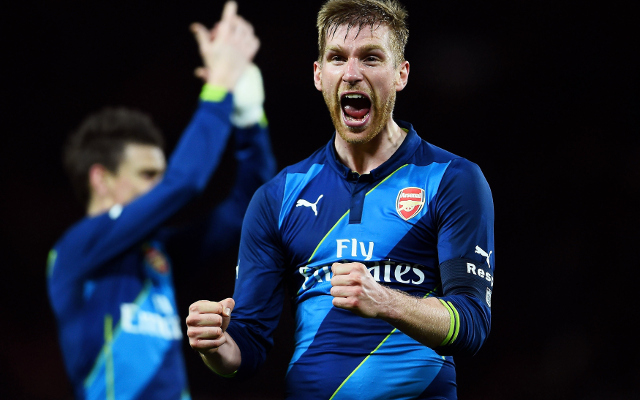 Looked very nervous early on, and could have perhaps done better with the equaliser. Became much more assured in the second half though, and protected Szczesny really well.
CB- Laurent Koscielny 6
Looked the calmer of the centre-backs, and once again organised the back four quite well. However, he failed to track Wayne Rooney's run to score the leveller.
LB- Nacho Monreal 7
Scored the opening goal with a great run into the United box, but could have perhaps been in a better position for the equaliser, as Di Maria had all the time in the world to whip the ball into the box. Dealt with the pace down the United right wing fairly well.