Zlatan Ibrahimovic's performance against Chelsea has surprisingly been praised by former Arsenal youngster Brooklyn Beckham, despite the Paris Saint Germain striker getting sent off early in Wednesday's Champions League last-16 tie.
SEE MORE:
(Tweets) Manchester United & Liverpool Stars Enjoy Chelsea Defeat To PSG
(Image) Mourinho Tactics? Every Single Chelsea Player Pressured Ref In To Ibrahimovic Red
(Video) Zlatan Ibrahimovic Calls Chelsea Players 'Babies' Over Red Card Incident
But this might have been more to do with the face the 16-year-old was given Zlatan's match day shirt as a gift following the surprise away-goals win for the Ligue 1 champions.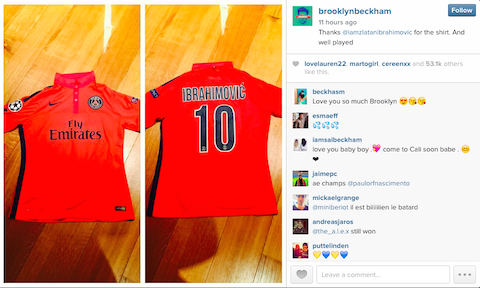 Beckham Junior visited Stamford Bridge for the clash between his father's former side and the Blues with his two brothers and his dad.
Luckily, given the amount of time Ibra spent on the pitch and what little he did before getting sent off, it probably won't need a wash.