Schalke midfielder Max Meyer may be slightly embarrassed to have had this caught on camera after his side's defeat to Real Madrid in this week's Champions League!
SEE ALSO:
(Video) Real Madrid 3-4 Schalke: Champions League Highlights – La Liga Giants Through, Despite Humiliating Bernabeu Defeat
Manchester United launch £70m bid as Cristiano Ronaldo unhappy at Real Madrid
Real Madrid transfer news
The German youngster was shown to be wearing Cristiano Ronaldo's brand of boxer shorts at the Bernabeu, where his side were 4-3 winners on the night but knocked out of the competition 5-4 on aggregate.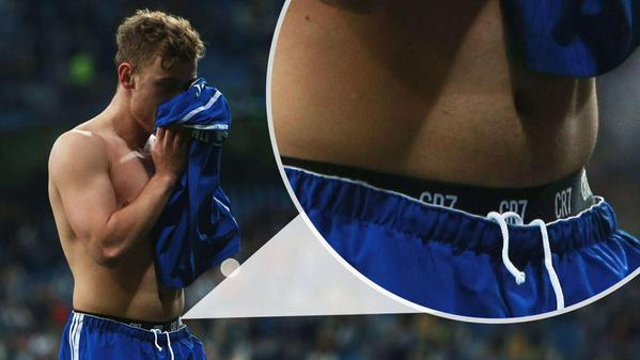 Still, at least he got to play against his idol and perhaps get a shirt swap at the end – though hopefully it stopped there!