The Premier League is often praised for it's aggressive nature, with officials allowing some hefty challenges to go by without punishment, which in turn leads to more open and attractive football.
However, there are a few players who overstep the mark and have since gained a reputation, with their yellow card tally evidence of that.
SEE MORE:
Gareth Bale & five other 'Galacticos' who couldn't cut it at Real Madrid, including ex-Liverpool star
Five clubs who could sign contract stalling Liverpool star Raheem Sterling, including Real Madrid and Premier League rivals
QPR winger Shaun Wright-Phillips makes first start in over TWO YEARS
Here are eight Premier League players who seem yellow card hungry.
1. Mathieu Flamini
The Arsenal man is one of the most combative players in the Premier League and his return to the club in 2013 has reminded many of what the Frenchman is about. It seems as though Wenger must legislate for two games where Flamini will inevitably be missing due to his yellow card tally.
2. Charlie Adam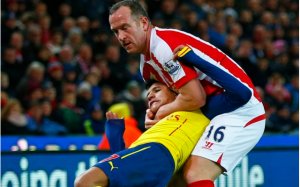 A few Stoke City players could realistically make the list but in fairness to the Potteries, Adam has always loved a beastly challenge and has since become well acquainted with the referees in the Premier League.