Arsenal face a surprising problem towards the end of this season – Arsene Wenger may be starting to wonder what his best team is, with his attacking options particularly impressive at the moment and all making a case for a starting spot.
SEE ALSO:
Serie A president CONFIRMS £30m bid for Arsenal & Man United target
(Video) Arsenal 3-0 West Ham Premier League Highlights: Olivier Giroud Key In Gunners Rout
Arsenal transfer news
The Gunners rested some key players for the visit of West Ham United this Saturday: both Danny Welbeck and Santi Cazorla, two starts of the FA Cup win at Manchester United on Monday, were only on the bench, while Alex Oxlade-Chamberlain was also out due to an injury picked up after his important role in the victory at Old Trafford.
And yet, Arsenal blew West Ham away with some fine form from the likes of Olivier Giroud and Aaron Ramsey, while Mesut Ozil and Alexis Sanchez also ensured there was world class quality on display. Even Theo Walcott, who was not at his best, should be a good option in a number of different roles when fully fit again.
In the 4-2-3-1 formation that Wenger has his side playing at the moment, there are about nine players who could fit in to the four attacking positions. Even picking the main striker is a hard task after Giroud's fantastic display followed Welbeck's match-winning heroics against his old club, when both Sanchez and Walcott could also make a case for playing in the central striker role – and what even is Alexis' best position after shining in almost every role in that attacking quartet this term?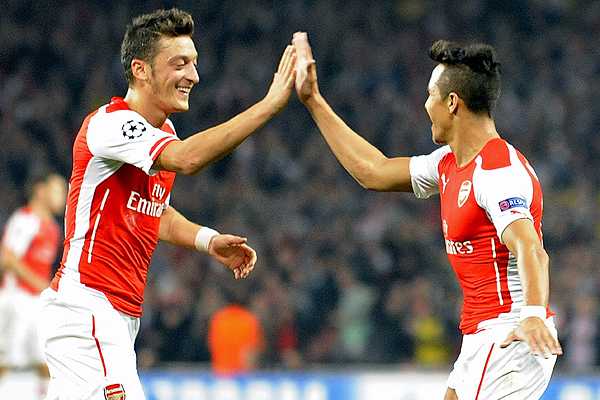 The AS Monaco game, which feels so long ago now, looked to have spelled the end of Giroud's Arsenal career after a series of shocking misses in a bad home defeat, and perhaps it is worth pointing out that he has often looked at his best against lower quality opposition, with his recent goal streak coming against the likes of Aston Villa, Middlesbrough, Crystal Palace and Queens Park Rangers as well as the Hammers. In that sense, Welbeck probably represents a better long-term option and a player who could evolve into the kind of striker Arsenal want, even if he is not quite there yet.
Behind Welbeck, for now there can be no disputing that when on form both Sanchez and Ozil have to start, but how best to use them is still to be decided. With Welbeck never likely to be a 30-goal-a-season striker, it might be best to use Sanchez in a role where he is more likely to score, and that perhaps means on the left, where he has four goals in nine appearances this season. Playing centrally behind the main forward is also an option, though that is where Ozil is probably at his best and should remain, with those two yet to play that many games together despite there being obvious potential for a great partnership.
So that leaves only the right-hand side, and it's a very close call indeed between Walcott and Chamberlain. The latter arguably has more to his game and is the younger player with more potential, though he lacks that blistering pace and clinical edge that the former can give.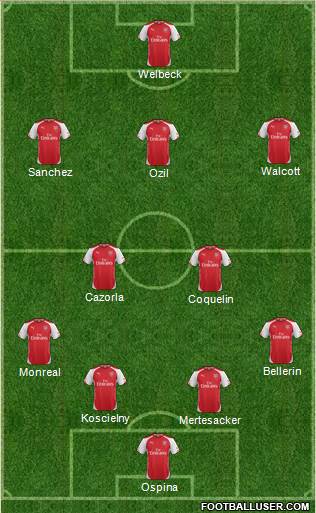 At the moment, this looks Arsenal's best bet, with Santi Cazorla having to settle for a deeper role that he has performed well in this season – a role Ramsey, Rosicky and Chamberlain can also fill if needed, whilst also providing options in the front four.
For all the talk that Arsenal need signings, this incredible depth of options at the moment makes one wonder if Wenger should stick with what he's got in that department for next season.