Jose Mourinho's son, Jose Jnr, is fuming with Chelsea supporters, after playmaker Cesc Fabregas was on the receiving end of unsavoury jeers from the Stamford Bridge faithful in their 1-1 draw with Southampton on Sunday.
READ MORE:
Chelsea news
Twitter lays in to Chelsea playmaker Cesc Fabregas as he endures typical 'second half of season syndrome'
(Image) Could Chelsea's Cesc Fabregas Cost Jose Mourinho Premier League title? Crazy Stats Show Playmaker's Incredible Dip In Form
The Spaniard has suffered a staggering drop in form in the second-half of the season, registering just two assists in 2015, in stark contrast to the 15 before the festive period.
Nonetheless, his stunning start to life in West London has been key to the Blues' position at the top of the Premier League table.
The youngster is justly unimpressed – and posted on his Instagram account: "I completely agree with the chant 'Mourinho's right, you're fans are s****'. Our fans are a disgrace!!!"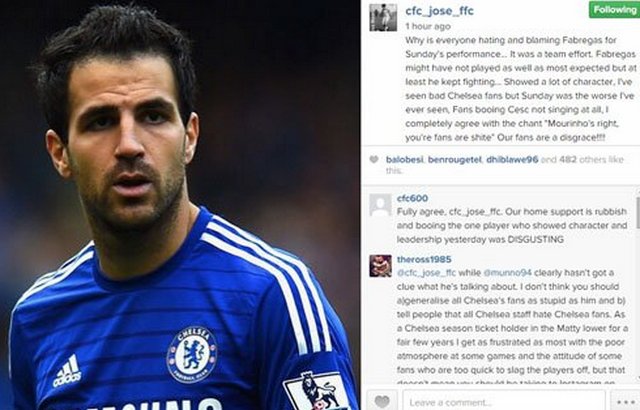 Unsurprisingly, the post was later deleted, but not before it quickly spread online.