Reports in Spain are claiming that Lionel Messi's return to form has coincided with him excluding his beloved pizza from his diet.
SEE ALSO:
Barcelona Vs Real Madrid Clash At Risk As Spanish Clubs Threaten Strike On El Clasico Weekend
Ten best footballers of all time, with Messi fighting Pele & Maradona for top spot
Barcelona transfer news
The Argentine forward was struggling for form earlier in the campaign, and was well entrenched in Cristiano Ronaldo's shadow. However, he has seen a dramatic return to form recently and has since overtaken his greatest rival once again.
And now outlets of the Spanish press are claiming that his good form has coincided with him giving up pizza.
Mundo Deportivo's claims that Messi has lost 3.5 kilos, which equates to just under 8 pounds.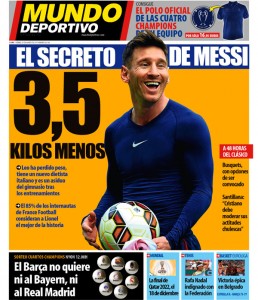 Meanwhile, AS state that he gave up pizza after eating it virtually non-stop during 2014.
Messi is known to love the Italian dish, and after looking slow and doughy at the beginning of the season, he is now looking svelte and back to his best as the season enters a crucial phase.