It is one of the big stories dominating the news at the moment that Raheem Sterling is stalling on signing a new contract at Liverpool, with European giants all over taking notice and plotting summer bids for the exciting England youngster.
SEE ALSO:
The 20 most red carded Premier League players – Liverpool legend Steven Gerrard now level with Vinnie Jones & Joey Barton following stamp
(Image) Hilarious Steven Gerrard heat map following Liverpool vs Manchester United red card
Liverpool transfer rumours
Of course, there has been speculation as to why Sterling doesn't want to commit his future to the Reds – is it money? Bad advice from agents? Concern over Champions League football? The latter of these may at least be legitimate, though at the age of 20 one has to wonder what his hurry is, especially in a team that looks very much on the up despite yesterday's disappointing defeat to old rivals Manchester United.
What hasn't made the headlines, however, is the fact that Sterling's form has dipped considerably in recent games – just two goals and two assists in his last ten appearances, one goal of which came against Championship side Bolton in the FA Cup. What is the reason for Sterling's poor form? It's fairly obvious…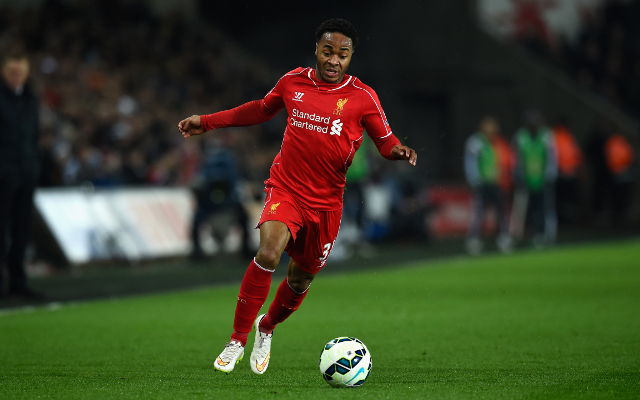 Despite playing his best games in a Liverpool shirt this season in a 'false 9′ role upfront for Brendan Rodgers' side, Sterling has recently been moved out wide and even in a wing-back role all too often. That is the position he took up against United on Sunday, and it resulted in one of his worst games of the season. Meanwhile, goal-shy and petulant forward Mario Balotelli still gets a look-in upfront ahead of him.
What is the message from Rodgers here? "If you won't sign a new deal I'll play you as a wing-back"? Or "Wing-backs aren't worth £150,000 per week"? Is the Liverpool boss cutting off his nose to spite his face here?
The manager himself has spoken a number of times about how that first game against United back in December saved his side's season; Liverpool changed to this 3-4-3 formation and Sterling was superb on his own upfront, despite being denied by a number of David de Gea saves. Why then, has he now abandoned the one player that seemed to make this system work so well?
It doesn't look good for Liverpool fans if they are hoping to keep this outstanding young talent at the club. If he's already uncertain about his future at Anfield then playing as a makeshift defender will surely only push him quicker out of the exit door.