The modern football boot rarely features the traditional black and white colour, with luminous green, yellow and orange regularly worn on the feet of amateur, semi-pro, and professional footballers, but these latest Nike cleats could be the most outrageous yet.
SEE ALSO:
Ranking our 8 favourite leaked kits for 2015/16 season, with Chelsea & Liverpool strips!
(Image) LEAKED: New England National Team Kit Released and It's Black and Gold?!
(Image) LEAKED Arsenal 2015/16 kits – another classy Puma design!
This is the most striking look ever of the Nike Mercurial Superfly collection, which will no doubt suit the ego of Nike and Real Madrid superstar Cristiano Ronaldo.
Take a look at the boots below, as posted by Footy Headlines.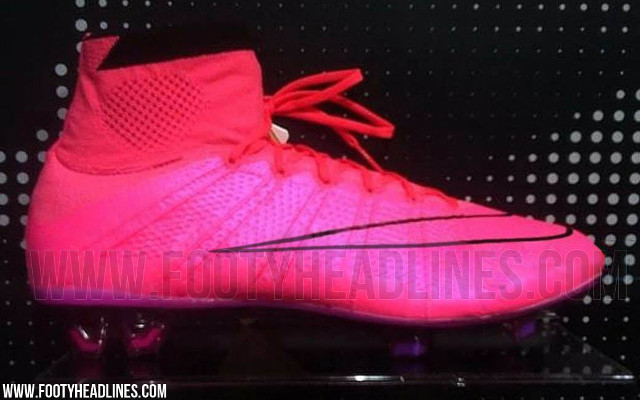 Footy Headlines report that these bright pink cleats will be part of Nike's Intense Heat Pack range, and will be available right on cue for the 2015/16 season – set to be available for purchase in August.

The technology of the boot remains the same from the previous Superfly's – continuing to feature the innovative knitted ankle sleeve.
It would take a special player to pull these off…