Another international break brings more questions about England's selection policy – none more so than for the decision of Roy Hodgson to include a 33-year-old midfielder barely rated by many of his own fans a Manchester United.
SEE ALSO:
"Enjoy being sh*t": Former Sunderland defender reveals Roy Keane's bizarre motivational teamtalk
Eight foreign youngsters held back by lack of playing time, including Man United & Chelsea starlets
Manchester United transfer news
With a quick look at the stats, it's crazy to question why Michael Carrick continues to excel even at this age and even with so many new players coming through both at club and international level. Many had written off the former Tottenham and West Ham man long ago as a player who needed to be improved upon, and yet here he still is.
Even with his Galactico approach to the transfer market during his time at Old Trafford, Louis van Gaal clearly still rates him, using him whenever he's been fit and available this season, to the detriment of big-name midfield signings such as Daley Blind (pushed out to left-back) and Ander Herrera (often on the bench). Fan-favourite Darren Fletcher, more of an eye-catching player for his much beloved all-action approach even if hardly considered world class, has even been shipped out to West Bromwich Albion. Still Carrick survives.
Even when fans despair that the English game needs players with the intelligence of Xabi Alonso and Andrea Pirlo, they seem to neglect Carrick's skillset. Clearly the veteran is not quite in that same class, but he brings many of the same qualities to his side when he is on the pitch. With a pass success rate of 89%, he has the fourth highest rating for a player in his position in the Premier League this season, just 0.5% less than Southampton's Morgan Schneiderlin, linked by some sources as a summer transfer target for United presumably to replace Carrick – who, by the way, has two assists to Schneiderlin's zero, for those who will no doubt jump and shout that Carrick's stats are misleading because he never passes the ball forward.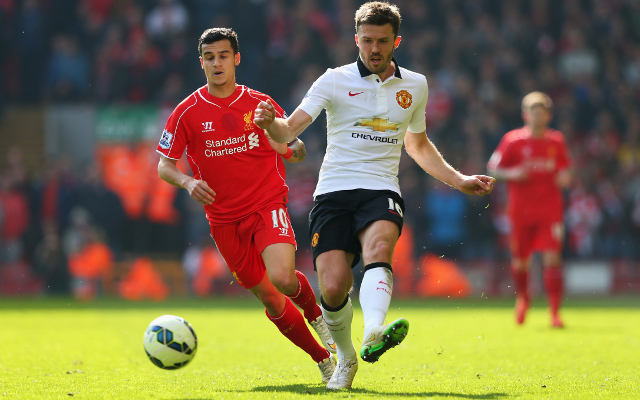 With Carrick playing almost precisely half of United's games this season, it's easy to see how the team performs with him and how they perform without him.
In 16 games with the England international making an appearance, the Red Devils have won 11, drawn 3 and lost 2; in 14 games without him, they have won just 6, drawn 5 and lost 3.
That means when Carrick is included, Manchester United earn 2.25 points per match – enough for 86 points over a full season, and enough to win the title in three of the past five seasons.
Without Carrick, that's 1.71 points per game, or 65 points over the course of a full campaign.
Admittedly it's a small sample size, and Carrick can't be given full credit, but that hasn't been a good enough total to qualify for the UEFA Champions League in any of the past five years.
Furthermore, with Carrick in the side, Man Utd have won away to Arsenal and Liverpool and beaten Tottenham at home. Without him, they have lost in embarrassing fashion to Leicester City and Swansea (twice).
In his career as a whole, Carrick has five Premier League titles, a League Cup, and a Champions League title to his name – far more than, say, Steven Gerrard can claim in his career with Liverpool, despite remaining ever-present and even captain of England – a selection choice seemingly few would question.
Cynics will shout and say that Carrick has simply been fortunate to be part of a better team challenging more regularly for honours, rather than being an essential part of that success, but how many average players to teams like United tend to carry before they're offloaded? Plenty of big names famously fell out of favour with Sir Alex Ferguson, including the club legend Carrick was signed to replace and whose squad number he inherited, Roy Keane.
There's a reason Carrick has remained a big part of the first-team at such a big club, and it is precisely why he's so unpopular at the same time – he does the simple but crucial things well, allowing others to shine and providing balance in a team.
It's just a shame England are realising it so late.