David Luiz's mother has taken to Instagram to offer support to her son after the Paris Saint-Germain defender was humiliated by not one, but two nutmegs from Barcelona star Luis Suarez on Wednesday night.
READ MORE:
Twitter reacts to Luis Suarez taking David Luiz apart during Barcelona win over PSG
(Video) PSG 1-3 Barcelona Champions League highlights as Luis Suarez makes David Luiz look silly
PSG hosted Luis Enrique's side at the Parc des Princes in the first-leg of the Champions League quarter-final, with the clash finishing 3-1 to the Spanish giants thanks to a fine finish from Neymar and a double from former Liverpool striker Luis Suarez.
Luiz undoubtedly endured the most miserable night out of his team-mates, as both of Suarez's goal came after the Brazilian was nutmegged by the Uruguayan.
In typical fashion, the former Chelsea centre-back was destroyed on social media, but he did receive some words of support – from his mother…
His mum, Dona Regina, wrote on Instagram: 'I have son and I always will! Head up and ball forward! God knows everything!… Who are we to judge you! Love you forever, in the good games and even more when thing don't work out right!'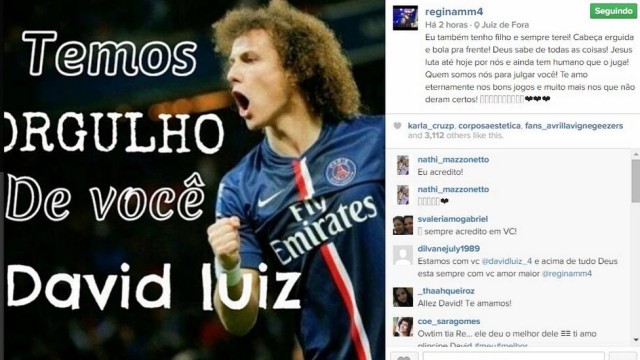 Have a watch of nutmeg master Luis Suarez humiliating David Luiz again on Wednesday night below: