Members of the Chelsea squad celebrated their crucial victory over Manchester United on Saturday evening by attending Didier Drogba's Foundation Charity Ball later that night.
John Terry, who was in attendance at the event with his wife Toni, took to Instagram to tell his fans how amazing his night supporting the Ivorian's charity was, and just how special the striker is.
READ MORE:
Chelsea transfer gossip
Images: Chelsea stars & WAGS celebrate Manchester United victory at the Didier Drogba Foundation Charity Ball
Chelsea's John Terry celebrates 'big big' Man United win on Instagram
Take a look below at the Chelsea captain's Instagram post, in which he writes: '@didierdrogba you are a great man and my HERO for not only what you have achieved on the pitch, but the work, time, effort and money you have raised to build a hospital is unbelievable. You should be very proud. Congratulations my friend'.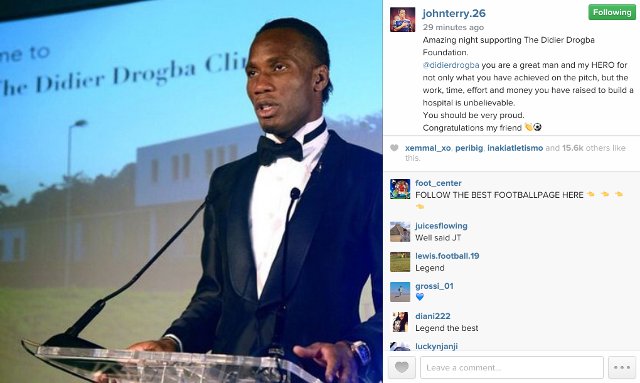 Drogba returned to Stamford Bridge following two seasons away with Shanghai Shenhua and Galatasaray in the summer. The forward's one year contract with the Blues is set to expire at the end of the season, and he could again be set for another exit from the club, unless boss Jose Mourinho chooses to table a new deal.
The win over Manchester United means that Chelsea are now just two victories away from sealing the Premier League title.