CaughtOffside, armed with the new HTC One m9 handset, travelled to Madrid on Wednesday to watch the Champions League quarterfinal showdown between Real and their city rivals Atletico.
Carlo Ancelotti's superstars downed Diego Simeone's La Liga champions 1-0 – thanks to a late goal from on-loan Manchester United star Chicarito.
Watching the game with 85,000 manically enthused Spaniards instead of in front of a television set – we clocked some (we think!) intriguing points about the Real Madrid team and its fans.
All images seen in this article were taken with the HTC One m9 handset, which can be used abroad at no extra cost with Three! 
-302 goals in 292 starts earns no special treatment at the Bernabeu…
Cristiano Ronaldo, arguably the world's best player, three-time Ballon d'Or winner and football behemoth, was treated like a second-rate loanee by Los Blancos faithful, at times. During the first-half, the Portuguese genius gave the ball away on perhaps two or three occasions, but on each, a volley of groans and targeted abuse rained down from the stands. In England – a striker with over 300 goals for his club would literally be able to do no wrong. Not at Real Madrid, apparently.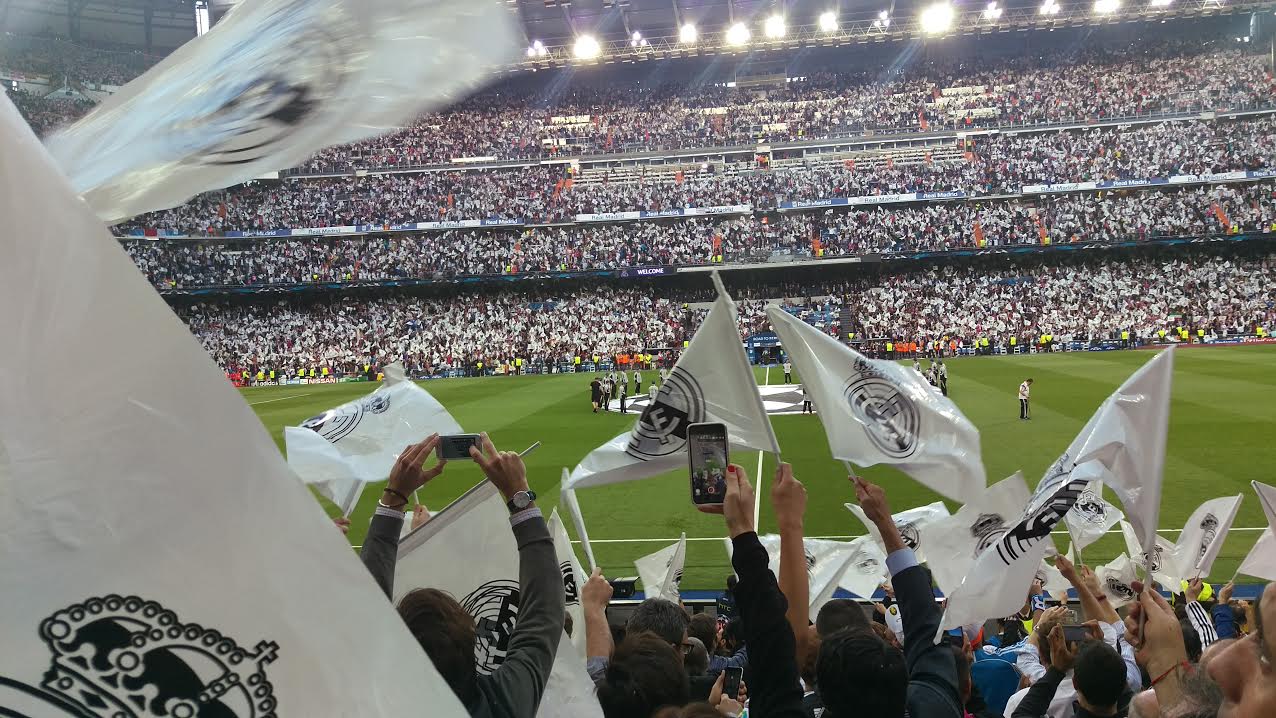 -Manufactured atmosphere… 
As ludicrous as the Bernabeu atmosphere was on Wednesday, it felt strange to not only be handed out flags, but a hymn sheet before kick off! Can you imagine a Champions League quarterfinal at Anfield for existence, between Liverpool and Everton, where the words to You'll Never Walk Alone would have to be explained beforehand? We do it differently in England, perhaps. (But hymn sheets or not – the Bernabeu noise blew our socks off.)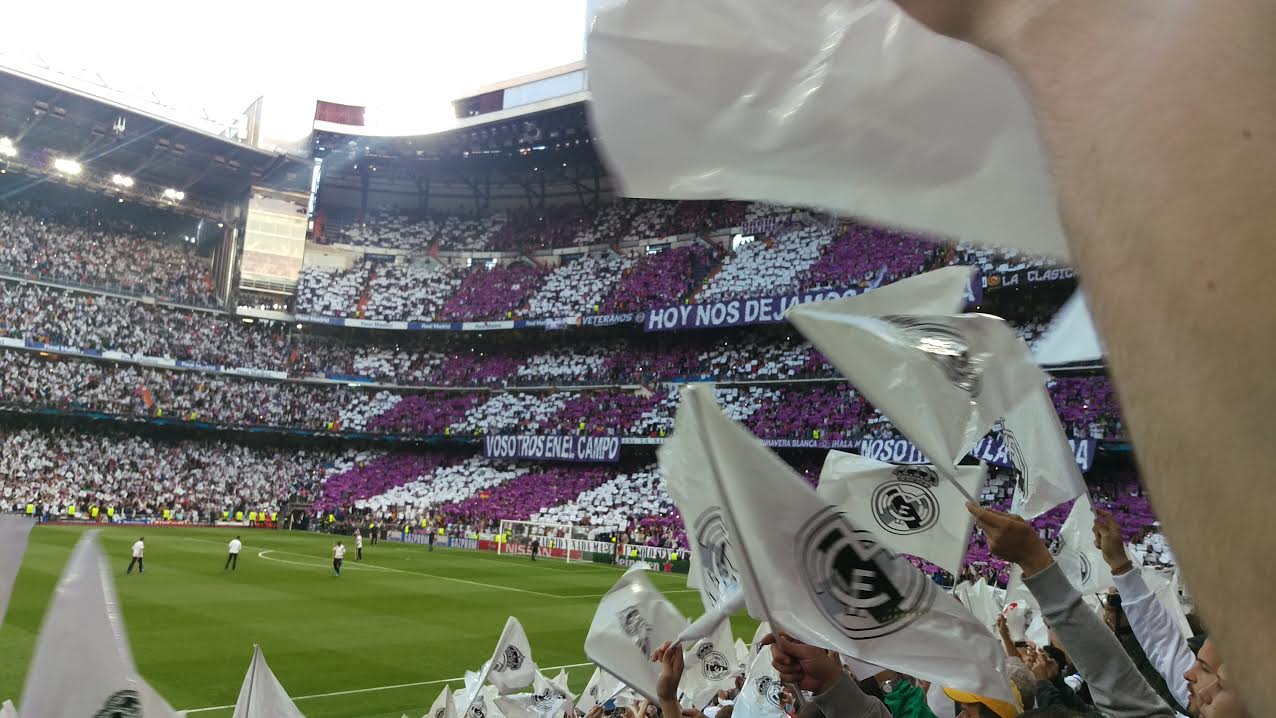 -Toni Kroos is the new Franz Beckenbauer…
Kroos is as much a centre-back as he is a midfielder. And that's not derogatory to the German maestro. He just plays so deep, so as to orchestrate play, that he's often the deepest Real Madrid player bar the keeper, with the centre-backs pushing up in front of him. In essence then, Kroos is a creative sweeper. It was a pleasure to watch someone so in control of the space around him, and with the technical skill level to put that personally acquired space to good use.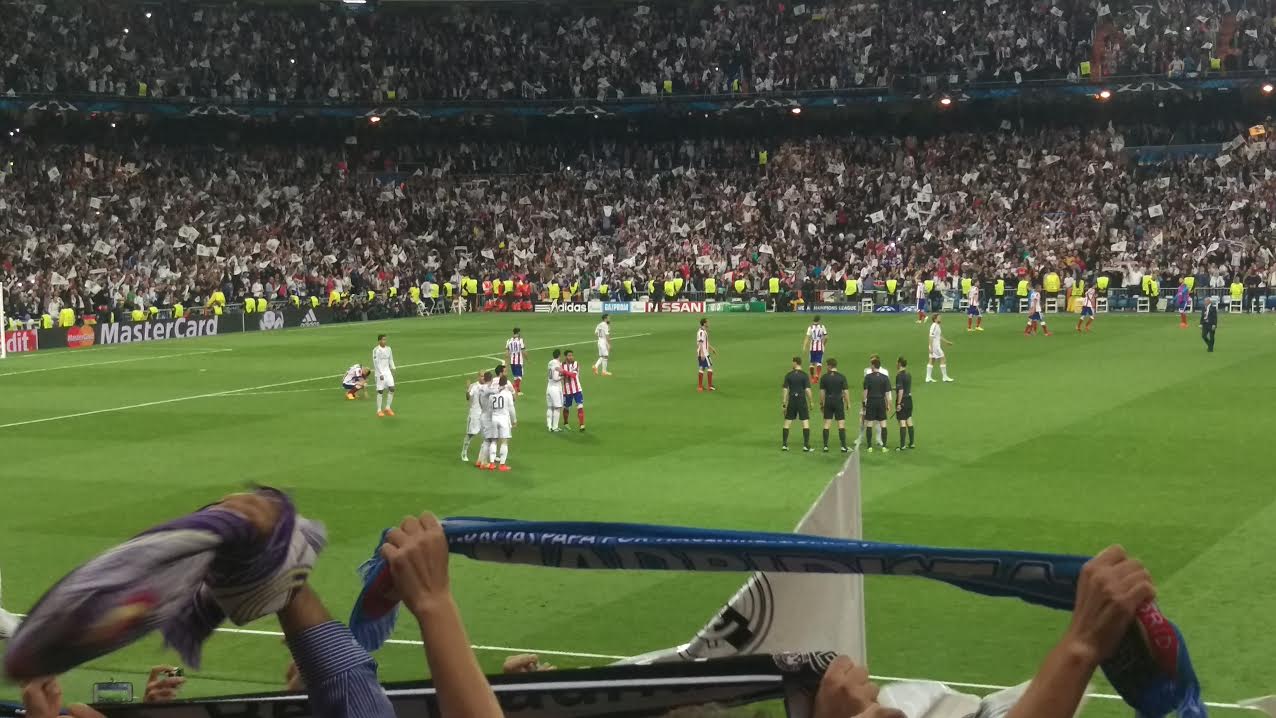 -Raphael Varane is an absolute beast… 
On the tele, the French centre-back looks gangly. In real life, he's truly an exceptional athlete. His pace was incredible, such was his ability to leap into the air and win everything Atletico delivered off the floor. To think – he's only 21-years-old. If anyone's ever been pencilled in for the title of 'world's best centre-back' in a few years, it's Varane.
Pepe kicking off!? Surely not! #ucl #m9inmadrid #holidayspam pic.twitter.com/MYb16BqW0q

— CaughtOffside (@caughtoffside) April 22, 2015