A run down of the fifty best players in Europe's top five leagues for the 2014/15 season, including Premier League stars at Arsenal, Chelsea, Liverpool, Manchester United and Manchester City…
SEE ALSO:
Kyle Walker girlfriend
Statistically best Premier League partnerships ever, with Arsenal & Chelsea legends vying for top spot
Statistically Best Player At Each Premier League Club This Season, With Man United & Tottenham Surprises
50) Bas Dost (Wolfsburg)
A player who has emerged out of nowhere, Bas Dost has had a superb season in front of goal for Wolfsburg, scoring 16 times in just the second half of the season.
49) Jeremy Menez (AC Milan)
One of the best goalscoring wingers in Europe this season, Jeremy Menez has shone with AC Milan, scoring 16 goals from out wide.
48) Nabil Fekir (Lyon)
A terrific young forward, Nabil Fekir has caught the eye in Ligue 1 with Lyon, scoring 14 goals and providing 9 assists at the age of just 21.
47) Mats Hummels (Borussia Dortmund)
One of the best defenders in Europe, Mats Hummels has had another strong season despite some worse form for Dortmund overall.
46) Marco Verratti (Paris Saint-Germain)
A classy young midfield playmaker, Marco Verratti has stepped up his game for Paris Saint-Germain this season.
45) Manuel Neuer (Bayern Munich)
A world class goalkeeper, Manuel Neuer doesn't always have a lot to do but has maintained his fine form for Bayern Munich.
Gundogan Manchester United: Four players who could lose their place if Borussia Dortmund star signs
44) Andrea Pirlo (Juventus)
Still going strong at the age of 35, Andrea Pirlo is still one of the finest midfielders and passers in the game.
43) Miralem Pjanic (AS Roma)
Another top class midfielder, Miralem Pjanic has caught the eye with AS Roma and may earn interest from bigger clubs.
42) Olivier Giroud (Arsenal)
With 17 goals this season, Olivier Giroud has been hugely improved for Arsenal and looks a dangerous striker on the top of his game.
41) Juan Cuadrado (Chelsea)
Despite not making a huge impact at Chelsea so far, Juan Cuadrado had an excellent first half of the season with Fiorentina.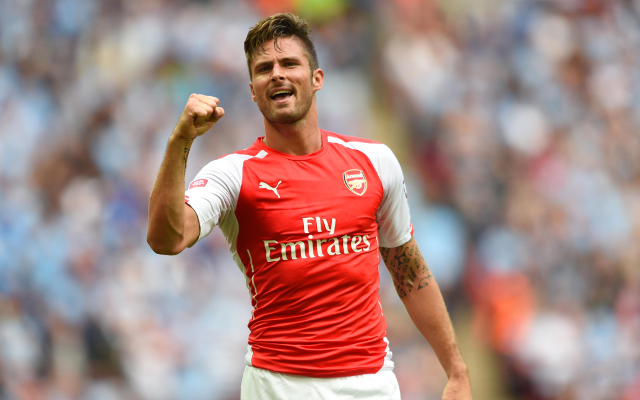 Get the latest Arsenal transfer news with our FREE Football app!