One Arsenal supporter is so dedicated to his beloved club that his girlfriend was forced to take an exam on the Gunners – or face the axe from their relationship.
The paper looked to be make or break for the couple – but the Arsenal fan seemed pleased in his written feedback with the response to the questions by his partner.
SEE ALSO:
Arsenal transfer gossip
Evans to Arsenal, Adebayor to Chelsea & eight more bizarre transfer rumours ahead of the summer
The girlfriend tweeted from her account, @saskiaisabxlla, showing the exam paper that she had to pass – and fortunately (or unfortunately) she did – getting 43.5 out of a possible 50 marks.
Much hard work had clearly gone into creating the paper – titled 'Arsenal Examination' – and despite scoring 87%, her boyfriend wasn't without some tips on how to improve her knowledge of Arsene Wenger's side.
Take a look below at the bizarre test, and the comical feedback, including 'Tottenham are scum', posted on her Twitter account…
boyfriend made me take an @Arsenal exam pic.twitter.com/uHsEGemtEV

— queen (@saskiaisabxlla) April 27, 2015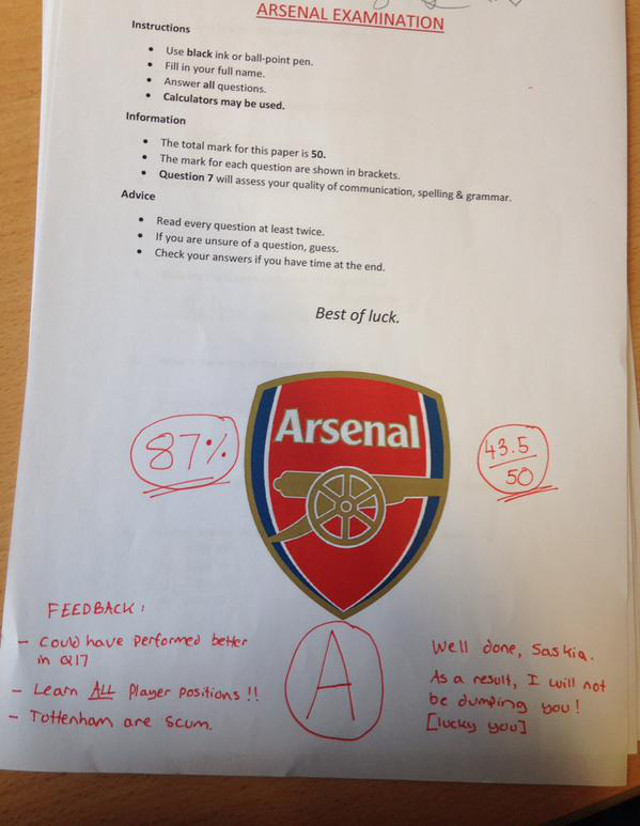 Meanwhile, following the goalless draw to title leaders Chelsea at the weekend, Arsenal have all but accepted defeat – once more – in the race for the Premier League trophy, as the Blues could have the title wrapped up by Sunday, if the beat Leicester City and Crystal Palace this week.