Chelsea clinched their fourth Premier League title on Sunday afternoon following a victory over Crystal Palace at Stamford Bridge, and typically the Blues' first-team stars have taken to social media to share their happiness.
One player who has stood out on social media is Chelsea winger Willian; who has shared a passionate post on Instagram to express the 'indescribable feeling' of being crowned the champions of England.
READ MORE:
Chelsea transfer gossip
Chelsea clearout: Ten players Mourinho could axe from title-winning squad, including Arsenal target
The Brazilian's stats don't quite match up to just how important he has been to Jose Mourinho's side; despite scoring just twice in the league and registering only three assists, the 26-year-old's work-rate has epitomised the spirit in the Chelsea side all season.
Understandably full of emotion following their title triumph – his second trophy at the club since joining in August 2013 after their Capital One Cup final victory over Tottenham Hotspur in March – Willian took to the social media site to share his dream-like emotion.
His caption translates to, 'I always dreamed of playing in the Premier League, which is considered the toughest and the strongest championship in the world. For many years I watched and admired English football. My turn would come, I knew. When I heard the proposal of Chelsea, I didn't think twice. I knew that in this great club I would fight for titles, I would always be on the top. Now I can celebrate my first Premier League title. Indescribable feeling! Many thanks to the Chelsea fans who have always been fantastic with me. The applause for me today will be always in my best memories. Many thanks to all the club's board, coaching staff, all employees. Many thanks to my teammates, who have always maintained a great atmosphere in the team. Many thanks to my family, my friends and my fans for their support ever. Thank you, my God!! Come on Chelsea!!!'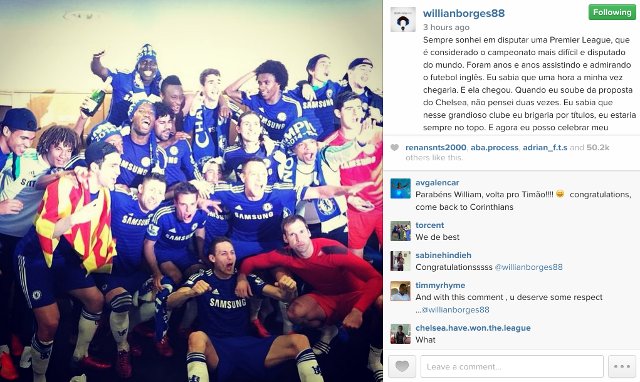 The Blues may have clinched the title, but they must wait until the end of the season until they can lift the Premier League trophy at Stamford Bridge.
They have three fixtures remaining – against Liverpool, West Bromwich Albion and Sunderland – and boss Jose Mourinho will no doubt want his team to win maximum points, despite their triumph already confirmed.