David Beckham is certainly a favourite amongst the ladies, and this Instagram snap on his birthday proves just how much of a hit the Manchester United legend is with the opposite sex.
SEE ALSO:
Footballers past and present wish Manchester United legend David Beckham a happy birthday
Becks celebrated his 40th birthday on Saturday, and did so in predictable style by having a lavish party in Marrakech, inviting a number of celebrity guests to share the special occasion.
Victoria's former Spice Girls bandmates Geri 'Ginger Spice' Halliwell, Mel 'Sporty Spice' C and Emma 'Baby Spice' Bunton were in attendance, along with Desperate Housewives actress and close friend Eva Longoria – to name but a few of the famous names at the party.
Take a look at the former England captain's Instagram post – with the humorous caption 'Great to see these shy and retiring ladies. Never dull a moment' – as the women swarm around the lucky Premier League icon…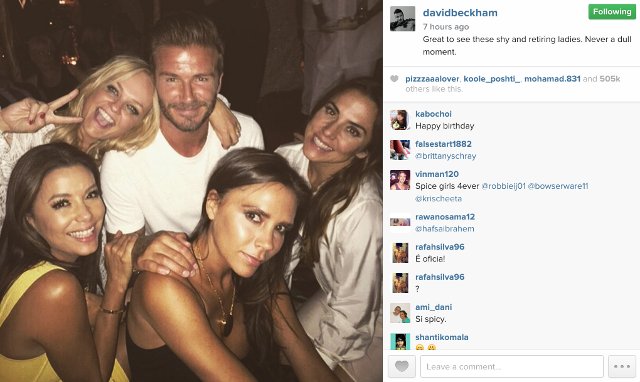 Eva and Brooklyn Beckham were also quick to post on the social media site at the birthday bash, and the actress humorously questioned how the teen had managed to beat her to one million and two million Instagram followers.