Cristiano Ronaldo has been so good for Real Madrid in the last few years that it's become all too easy to ignore quite how bad they have been for him.
SEE ALSO:
Ronaldo: PSG remain keen on Real Madrid superstar
(Image gallery) Irina Shayk: 26 hot photos of the sexy WAG following allegations that ex-Cristiano Ronaldo 'cheated' on model with 'dozens' of women
Manchester United rumours
Although it's foolish to suggest the Portuguese superstar will have too many regrets about breaking record after record for perhaps the biggest football club in the world and reaching the best individual form of his career in the Spanish capital, his trophy count does leave something to be desired.
Reports now suggest Ronaldo is considering a summer exit from the Bernabeu due to a lack of trophies (according to the Metro) and it is hard to bregrudge him that right after all he has put into the team for so little in return. Some of his favourite players such as Mesut Ozil and Angel Di Maria – who each provided him with countless assists – have been offloaded, with questionable replacements brought in, and a solid enough defence has not been built to ensure he isn't almost literally having to win every game on his own.
On his own this season, Ronaldo has scored an incredible 45 La Liga goals – more than thirteen of the other teams in the Spanish top flight have managed as a collective. And yet, he is set to finish the season empty-handed through a lack of proper investment in a defence that conceded the most goals in the top three last term, and now the most in the top four this year. A player of his calibre deserves a little more, and Real have truly wasted one of their biggest ever talents here.
At the end of 2014/15, Ronaldo will have spent six seasons in Spain, the same as he spent at Old Trafford. In this time, despite his phenomenal goalscoring rate of 310 in 299 games, he only has seven trophies to show for it. Of these, only two are truly considered the big prizes – one La Liga title in 2012 and last season's Champions League triumph.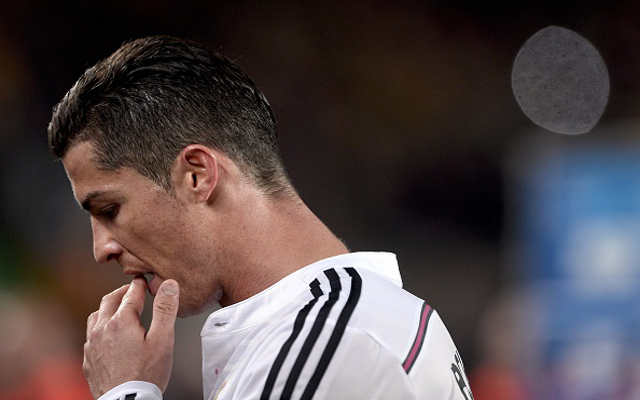 In contrast, Ronaldo won nine trophies in six years as a Manchester United player, which brought three Premier League titles and the same number of Champions League triumphs. There's also an FA Cup win from 2004, which is held in slightly higher regard here than the Copa del Rey is in Spain, whose equivalent is perhaps the League Cup in England, of which Ronaldo won two. Which ever way you look at it, Ronaldo's best individual form of his career has not coincided with the most success for his team, which shouldn't really be right.
As the 30-year-old considers one more big move before the end of his career, perhaps even a return to Manchester, it is increasingly arguable that he should never have left the club in the first place: has it really been worth sacrificing what would have been another four years of playing under Sir Alex Ferguson? Has it been worth missing out on a further two Premier League titles and another Champions League final, which it's fairly safe to assume would have been more if Ronaldo had been there to aid the team in the race for trophies?
Barcelona have surpassed Madrid as La Liga's dominant team in recent history; since 1990 Real have won just eight titles to Barcelona's thirteen, and Barca are starting to look the more established side in European competition as well, winning the Champions League three times in-between Real's long wait between wins in 2002 and 2014.
Real will always be a big name and have the money to ensure they stay that way, but for all the glamour associated with the Spanish capital, it no longer looks the best place for the best footballers to go if they are serious about trophies. United fans undoubtedly wish they'd kept hold of Ronaldo, but will he now feel he needed them as much as they him?