Liverpool fans didn't hold back in expressing their harsh feelings towards wantaway winger Raheem Sterling before the Reds' kick off against Stoke City on the final day of the Premier League season.
V-signs, bird flipping… You name it…
READ MORE:
Read the latest Liverpool transfer gossip!
Raheem Sterling stats: Liverpool youngster compared to Lionel Messi & Man United legend at same age
Manchester City test Liverpool's resolve with swap deal to sign Raheem Sterling
News [via BBC Sport] broke this week that the England international had told boss Brendan Rodgers, before their clash with Chelsea earlier in May, that he wanted to leave Anfield in the summer.
This, combined with the 20-year-old's agent astonishingly stating to reporters that his client is so intent on leaving Merseyside that he wouldn't even sign a contract worth £900,000 per-week, has inevitably left Liverpool fans fuming with the youngster.
Take a look at the snap from the Britannia Stadium below, as it certainly looks that Sterling has played his final game for the club…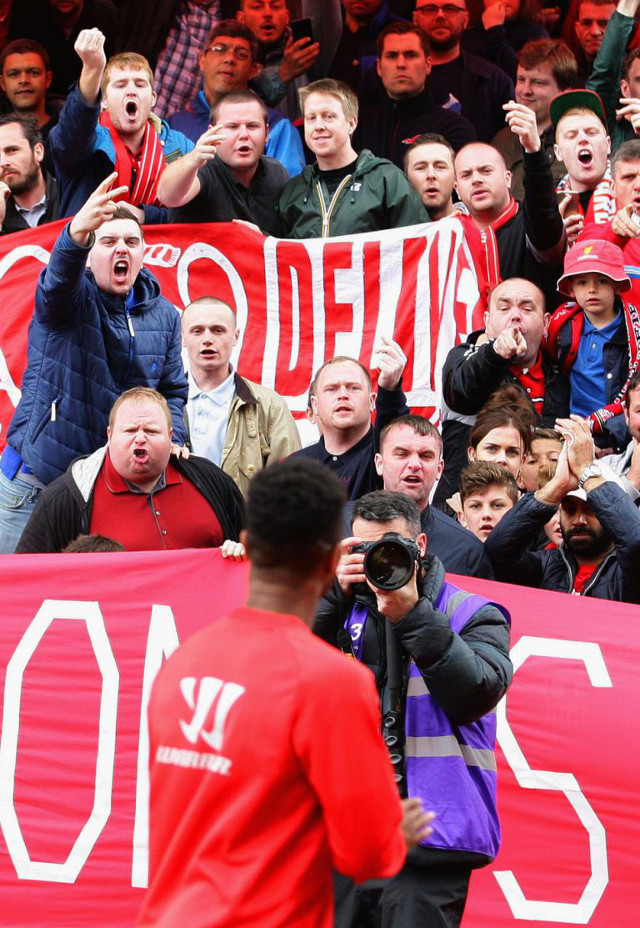 Most recent reports over the weekend, via Sky Sports, claim that Manchester City are open to making a move for Sterling in the summer transfer window. Sky sources understand that the Sky Blues are interested in his availability, but are yet to make an official bid.
Naturally, however, the Reds would prefer to sell abroad than to a Premier League rival.