Manchester United's David De Gea could be days away from having his move to Real Madrid confirmed after secret snaps revealed the assembling of the Santiago Bernabeu presentation stage.
READ MORE:
Read the latest Manchester United transfer gossip!
Real Madrid De Gea: Man Utd warn Spanish giants to make £25m transfer offer or their star stopper stays at Old Trafford
[Image] Man Utd star David de Gea in Real Madrid kit launch photo
The Liga BBVA giants were rumoured to have hit a stumbling block in their bid to sign the Red Devils goalkeeper after Louis van Gaal was left seething at their minimal opening offer of £13 million [via The Sun].
However, the Daily Star posted this image on Wednesday of what looks to be the erection of the presentation stage that has unveiled the likes of James Rodgriguez, Toni Kroos and world-record signing Gareth Bale over the past two seasons in Spain's capital.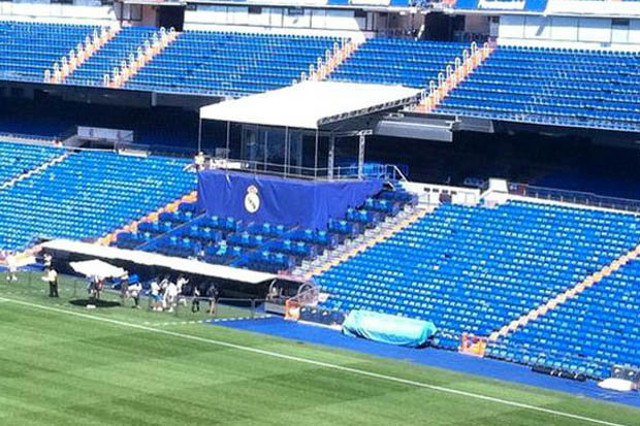 Thousands of supporters are set to be welcomed at Los Blancos' stadium if De Gea finally puts pen to paper on a deal – in what could be new manager Rafael Benitez's blockbuster signing of the summer window, the Daily Star report.
The newspaper claim that Real have suspended stadium tours on Friday afternoon while preparations to unveil the Spanish stopper begin; however, the British tabloid sadly point out that the stage may perhaps be being set to present FC Porto full-back Danilo Luis da Silva.
The Spanish heavyweights agreed a £23 million deal to sign the Dragoes defender at the end of the season in the January window [via BBC Sport], and the 23-year-old is yet to be introduced to the Real faithful.
Should De Gea depart-as is looking increasingly likely-United would need to begin considering who could potentially replace him. Victor Valdes is currently on the club's books, and may be considered as the new No. 1, while the likes of Hugo Lloris of Tottenham Hotspur [Goal] and Petr Cech of Chelsea [Manchester Evening News] have also been linked to Old Trafford.