Arsenal unveiled their new Puma home shirt for the 2015-16 season on Monday, and exclusive images have now emerged of what could be their new away kit for the upcoming campaign.
READ MORE:
(Tweet) Arsenal's Aaron Ramsey accused of being drunk by his own Gunners fans following Welsh Twitter post
Arsenal 2015-16 Premier League fixtures: Gunners kick off with London derby before tough Eagles and Liverpool clashes

The Gunners' home jersey underwent a slight change in design [Arsenal.com], but their away shirt has had a striking revamp by Puma.
Puma continue to carry inspiration from the classic yellow away jerseys that Arsenal have enjoyed over the years, but their latest design has changed from the bright yellow of last season to a striking gold. The shirt also features an unusual diamond pattern, and could be a popular one at the Gunners store this summer.
The 2015-16 Premier League fixtures were released on Wednesday morning, and Arsenal could debut their away shirt in their second game of the new season when they travel to Selhurst Park for a London derby with Crystal Palace.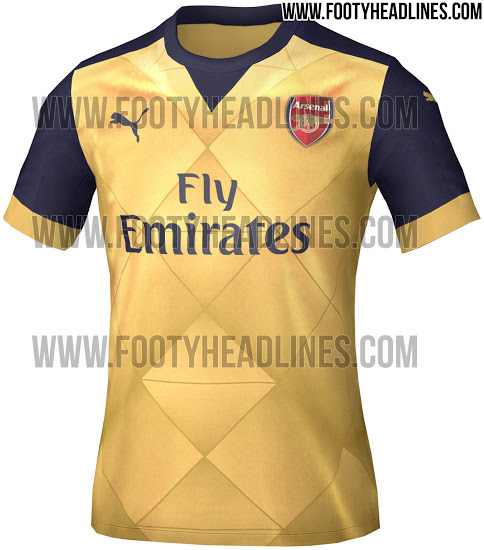 [Image credit: Footy Headlines]