Atletico Madrid unveiled exclusive images of their 2015-16 home shirt on Wednesday, and the new jersey could be a top seller across Europe.
READ MORE:
Premier League 2015-16 kit special: Newly released official jerseys…
The La Liga BBVA outfit excited fans today by releasing snaps of the shirt to be worn at the Estadio Vicente Calderon next season, which will feature a new sponsor Plus500 – replacing their controversial partnership with Azerbajan [The Guardian].
Atleti were unable to repeat domestic triumph last season – finishing third, 14 points off runners-up Real Madrid and 16 points adrift of winners Barcelona – but they have paid homage to their historic success on the new home kit.
Take a look below: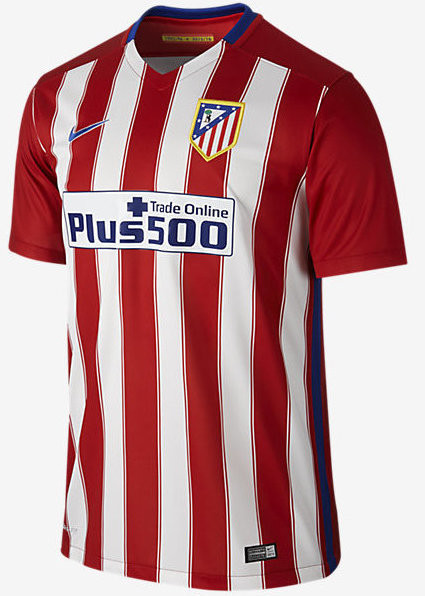 Atletico Fans state that the shirt is a tribute to the 1995-96 double-winning side, as the start of next season will mark 20-years since the famous 'Doblete'.
Just as it did 20 years ago, the 2015-16 shirt features five red stripes and a single blue stripe.
There could be perhaps be bad news for Chelsea, as top summer transfer target Antoine Griezmann [via the Express] has been included in the photoshoot for the unveiling of the kit.