Bayern Munich have posted a photograph on Instagram thanking Bastian Schweinsteiger as the midfielder closes in on a move to Manchester United.
READ MORE:
Read the latest Manchester City transfer news!
Man City new kit: Classy 2015/16 home shirt revealed on Twitter
Man City eye Arsenal & Man Utd transfer targets in stunning £60m Bundesliga RAID
The two clubs have agreed a deal for the 30-year-old, according to BBC Sport, and the player's personal terms and his medical are the only things that stand in the way of the legendary midfielder's move to Old Trafford.
The veteran still has one year left on his contract, but having told Bayern chiefs he will not be signing a new deal, the club have agreed to offload him.
His departure will surely hit Bayern hard. While the Bavarian giants are not short of elite talent, the midfielder has been a fixture in the first team since his 2002 debut. In the intervening 13 years, he has made 536 appearances for Pep Guardiola's side, becoming a club legend in the process.
To commemorate his service, Bayern have posted a photo on their official Instagram, thanking Schweinsteiger for his enormous contribution to the Bundesliga heavyweights.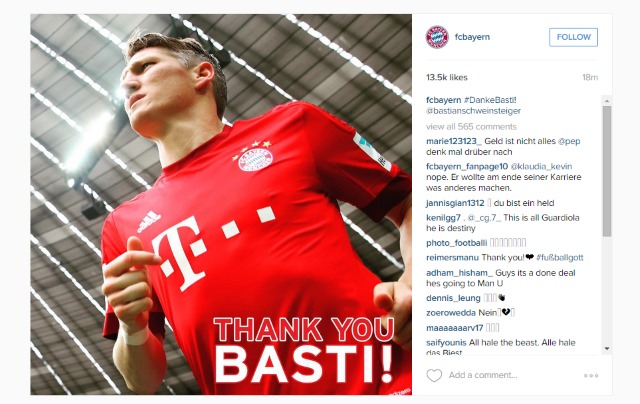 During his time at the club, the midfielder has won eight German titles, seven German cups, the Champions League in 2013, the Super Cup and the Fifa World Club Cup.
He also claimed the World Cup with Germany in 2014.
Speaking to the BBC, club icon and current chief executive Karl-Heinz Rummenigge expressed regret over the player's departure.
"We have reached an agreement with Manchester United over a transfer," he began.
"It's regrettable because Bastian meant a great deal to the club.
"He achieved great things but he wants to do something new at the end of his career. He asked that we meet his wishes.
"We tried to convince him to stay with Bayern Munich. But I also understand that a player who has spent 17 years at Bayern Munich still wants to gain a new experience."