Former England goalkeeper David James believes that Arsenal signed the wrong goalkeeper this summer when they moved for Chelsea's Petr Cech, rather than Stoke City's Asmir Begovic.
The Bosnia-Herzegovina keeper had been linked to the Gunners as well as several other Premier League heavyweights [talkSPORT]—including Manchester United [Mirror] and Liverpool [Metro]—but eventually opted to move to Stamford Bridge to join Jose Mourinho's champions.
Speaking to talkSPORT, James believes that Arsenal—who instead moved for Pensioners keeper Cech—signed the wrong stopper.
"Petr Cech is a very good goalkeeper but he's not at his best," the former Portsmouth, Liverpool and Manchester City guardsman began.
"At 33 years of age, there's nothing to say he can't get back to his best form though.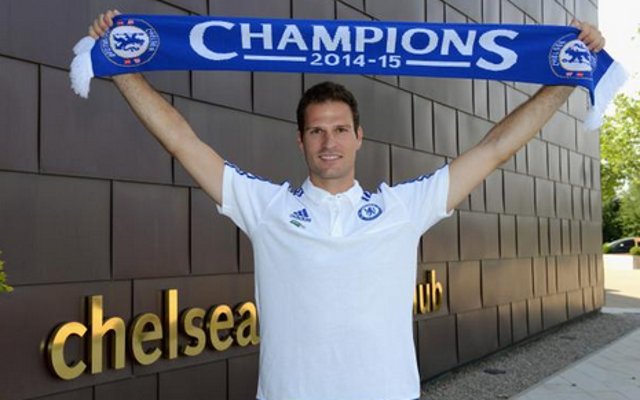 "If he does then Arsenal still have one hell of a goalkeeper but Chelsea still get £11million for a 33-year-old with one year left on his deal," the 44-year-old continued.
"They have gone out and bought Asmir Begovic, who was sought after by many big clubs in the last two or three years, and been one of the best goalkeepers in the Premier League.
"He's got age on his side and, alongside Thibaut Courtois, you've got two of the best goalkeepers in the Premier League with 15-plus years ahead of them.
"If I was an Arsenal fan I would have been happier to have signed Begovic."
Having only featured seven times in the Premier League last season, it remains to be seen whether Cech—who was signed for £11 million [Standard]—will be able to rediscover the form he demonstrated earlier in his career.
SEE ALSO:
Most expensive English players
You won't BELIEVE which Arsenal 'legend' Oxlade-Chamberlain would have back!
Arsenal transfer news
Despite his relative inactivity last season, it looks likely that the Czech Republic legend will take the No. 1 spot at the Emirates Stadium. Wojciech Szczesny lost his place after failing to impress last term, while David Ospina has been linked with a move away from North London, with Real Madrid [Metro] understood to be keen on the stopper.
The legendary Cech arrives in North London as one of the most decorated players ever to have signed for the Gunners; the keeper won four Premier League titles, four FA Cups, the Champions League and the Europa League during his time with the Blues.