Amidst all the non-stop transfer rumours in a typically frantic summer, you could be forgiven for missing some surprise recent news regarding Manchester United's Michael Carrick.
For all the hype generated by signings of Morgan Schneiderlin and Bastian Schweinsteiger in midfield, Louis van Gaal clearly still sees a place for the veteran England man in his squad after reportedly rejecting offers from Newcastle and Inter Milan [via the Daily Mirror], and this should come as a relief to United fans after what has been a topsy-turvy period in the club's history.
Having lost the legendary Sir Alex Ferguson after his retirement, having then axed his successor David Moyes less than a year into the job, having dropped out and then got back into the top four, having lost experienced old heads like Nemanja Vidic, Rio Ferdinand, Patrice Evra, Darren Fletcher, Nani and Robin van Persie, some continuity is vital for the club at this point.
In the same way that Carrick should be appreciated as a player – for that underrated quality of keeping things simple, protecting the defence, and keeping things ticking by moving the ball along to more adventurous and skillful attacking players – his effect of keeping the Ferguson era ticking along by simply passing his wisdom on to the myriad of new recruits could also prove crucial for the team and its development in the next couple of seasons.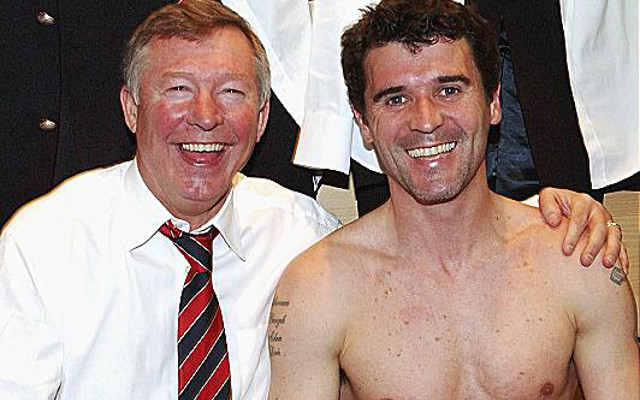 Sir Alex knew the value of continuity,,,
One thing that made the Ferguson era at Old Trafford such a glorious one was the manager's eye for continuity.
Admittedly, the Scot inevitably saw a huge turnover of personnel in his long stay with the Red Devils, but his success came in keeping his best winners around for as long as possible. Over the years, how much did players like Cristiano Ronaldo, Ruud van Nistelrooy, and numorous others, benefit from having old heads like Ryan Giggs and Paul Scholes around? Sticking with players who have provided so much success gives a football club a sense of identity, and connects the present with the past, with a club's history. If that history is as glorious as United's, that's an essential asset that Van Gaal really must not ignore.
A quick look at the stats also shows Carrick's undying influence on the team when he is on the pitch.
Far from just being a presence off the field, he still brings something pivotal to the side when he is playing. Of the 18 games he featured in last season, United won 13, drew 3 and lost only two.
SEE ALSO:
Top 100 Premier League players 2015/16
Manchester United transfer news: £60m forward announcement TODAY, medical done
REVEALED: Man United to unveil £30m striker as new no.7 after Angel Di Maria joins PSG
Among these games were wins away to Arsenal and Liverpool and at home to Tottenham Hotspur and Manchester City. That gives United 2.33 points per game when Carrick plays, which would equate to 88 points a season – enough to win the title in four of the last six Premier League seasons. Few in Europe play that role in front of the back four with such authority as him, and his quiet efficiency in the way he does his job has seen him become hugely underrated in comparison to the all-action displays of another great England midfielder of recent times, Steven Gerrard.
Few United fans will put Carrick in the same bracket as Giggs and Scholes, and few neutrals would pick him over Gerrard – perhaps rightly so – but his experience and presence on the training ground and in the dressing room should not be understated. In a time when United are clearly starting a new era – with a team almost unrecognisable from the one that won the league just two years ago – Van Gaal mustn't let his obsession with building his own team in his image neglect what made the club so great before he arrived.