With the recent sale of Rafael from Manchester United to Lyon, the blurred reality on what makes a good footballer in the eyes of those who manage them and those who pay to watch them was once again emphasised.
Nowadays, it is easy to gauge the mood of a large section of a team's fanbase due to the presence of Twitter and other social networks, and it's clear from the bulk of fans' reactions recently that they are disappointed to see the Brazilian right-back leave the club. A top performer and regular starter in United's last title-winning side of 2012/13, it is puzzling to subsequently see the player's career go downhill so quickly, having only ever played eleven times under Louis van Gaal.
There was a similar reaction after the departure of Lukas Podolski from Arsenal last season, when he joined Inter Milan on loan.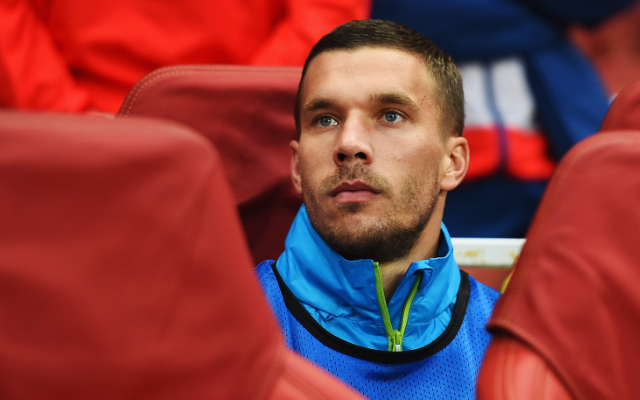 Although his form in Italy will subsequently have convinced fans that letting him join Galatasaray this summer was perhaps a wise move, it seemed at the time like a risky decision by Arsene Wenger to let a proven goalscorer with a superb left foot leave.
The German World Cup winner typifies the kind of player who becomes a fan favourite; one who sticks in the memory for what he does, rather than what he doesn't do.
While the likes of Michael Carrick and even Mesut Ozil can go under-appreciated for their less than eye-catching approach to the game, players like Podolski and Rafael provide those moments that get fans off their seats – a thunderous long-range strike to decide a game, or a crunching slide tackle on an opponent – but why do managers not share this enthusiasm for such players?
Sad to see Rafael leave United, was very good in last years under Ferguson and loved the club! pic.twitter.com/yNaEabeM2T

— Matthew Birtles (@matthewbirtles) August 6, 2015
It's very sad to see @orafa2 (Rafael) leave United. The kind of player you like having in the squad. Cracking Brazilian player. Miss you! — Ketan Kulkarni (@Ketan__Kulkarni) August 4, 2015
One can only speculate, of course, but, needless to say, managers spend much more time analysing the members of their squad, and see their preparations in training in the week before a game. Sometimes they're wrong, and players have been allowed to leave only to shine elsewhere, but it would be hard to question their judgement when they undoubtedly see more than we do for 90 minutes on the TV once a week, or just from five-minute Match of the Day highlights.
With Podolski, the general acceptance seems to have been that he was lazy and didn't offer enough defensively (with stats to back it up on the Daily Telegraph). The 30-year-old rarely completed a full game for club or country, and a player like that can become a real liability, forcing full-backs to do more or take more risks in order to cover for them. Even if Podolski himself was not a bad player and could score out of almost nothing, he perhaps made his team-mates worse over the course of the 70-80 minutes he'd play, which just isn't a risk worth taking at the top level.
Love Podolski. Shame his movement isn't as good as his left peg.

— Baun (@BaunAFC) July 8, 2015
Sad to see #Podolski leave @Arsenal what a strike that guy had #EitherFoot he always made an impact. All the best lad ???????? — Kur7t (@Kur7t) July 4, 2015
Rafael, meanwhile, may be popular for a passionate and aggressive style of play, but it's not a characteristic that will get you as far in the modern game as it may have done in the past.
Sports analysis and coaching moves on quicker than many supporters do, and in an age where referees are stricter and defending is more complex, perhaps the 25-year-old's tendancy to rush into challenges would be too risky in terms of leaving his team exposed in a crucial area, or, of course, in terms of picking up cards that would see him potentially miss key fixtures over the course of a campaign through suspension, or through an injury picked up himself.
SEE ALSO:
Premier League's richest owners: Arsenal, Chelsea, Liverpool and Manchester United's billionaire masters revealed
Arsenal transfer news: Gunners to sign £88m trio after Wenger PANIC, including La Liga duo & German wonderkid
Arsenal OFFICIALLY the best team in the world
Van Gaal is an example of a manager who has fallen out with big players throughout his career (a list of them here on BBC Sport), some of which seem bizarre, due to the perceived nature of the characters involved.
Still, he may point to his own record and say he knows what he's doing. History tends to show that the managers who are the most stubborn, who make some of the most unpopular decisions, usually have a conviction and belief in what they're doing that drives them on to success. Just look at Sir Alex Ferguson!