Liverpool have had a habit of pulling out the cheque-book for flops, but a very recent one may be one of the worst investments to date.
According to the Mirror, Liverpool striker Mario Balotelli – now on loan to AC Milan in Serie A – could cost as much as £30 million between his £16m transfer fee and the £60,000-per-week salary the Reds are paying him.
The Mirror also noted that Liverpool haven't even received a loan payment from the Serie A outfit.
Balotelli received significant criticism after scoring just one goal in 16 Premier League appearances. After an abbreviated 2014-15 season he was loaned back to Milan for the start of the 2015-16 season.
His short tenure at Anfield was marred by controversies on and off the field, including swapping jerseys with an opponent and a suspension for posting a social media image was deemed racist and anti-Semitic (photo from The Mirror):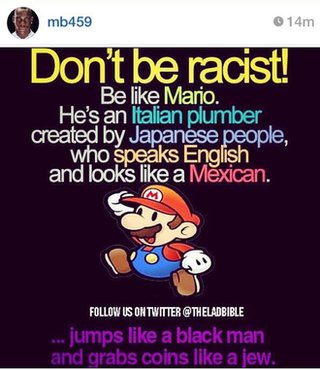 At the time of the 2014 signing Balotelli was a top-scoring threat in Europe. From 2011 to 2014, in stints with Manchester City and Milan, Balotelli racked up an impressive 40 league goals and 50 total goals before his transfer to Liverpool.
Balotelli was also the 2010 recipient of the Golden Boy Award – a prestigious award for the best U-21 footballer in Europe that is shared by such megastars as Wayne Rooney, Lionel Messi, Paul Pogba, Isco and Sergio Aguero.
SEE MORE:
SHOCKING stat reveals Man City midfielder was poor choice to replace David Silva
Manuel Pellegrini left "frustrated" as Man City lose 100% Premier League record with shock home defeat against West Ham
Manchester United legend calls Chelsea star 'petulant baby' after yellow card antics