Chelsea return to Champions League action on Tuesday night as they travel to FC Porto for their second Group G match.
The fixture will be a particularly special one for the Portuguese giants' new goalkeeper, Iker Casillas.
In Porto's opening European Cup fixture—a 2-2 draw away at Dyanmo Kyiv—the legendary stopper equalled Xavi's record of Champions League appearances, when he made his 151st outing in the competition.
SEE ALSO:
10 best Premier League South Americans ever: Arsenal star Alexis Sanchez joined by Man Utd, Liverpool & Chelsea greats
Chelsea transfer news round up: Shock Real Madrid raid, Man Utd target available, wonderkid deal on & more
Chelsea transfer news
The stopper will likely start Tuesday's fixture against Chelsea, which would make him the outright record appearance-maker in the competition, with 152 outings.
Casillas will be hoping to mark the occasion with a victory over the Blues. There's reason to suggest the Portuguese giants have a chance of success, as they are currently on a 12-match unbeaten run.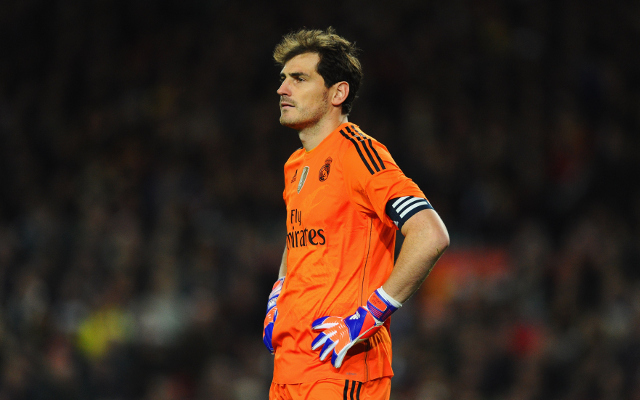 However, standing in Casillas's way is Jose Mourinho, a man who shares an unhappy history with the legendary guardsman.
The World Cup-winning goalkeeper left Real Madrid in the summer, having spent his entire career to that point with Los Merengues.
Perhaps Casillas's toughest time at the Bernabeu came during the 2012-13 season, during Mourinho's troubled spell in charge of the club.
The keeper was dropped for a match against Malaga, before Mourinho opted to persist with reserve keeper Antonio Adan between the sticks. Casillas's girlfriend Sara Carbonero later confided to Marca that the Real players had a problem with Mourinho.
The Portuguese coach eventually brought in Diego Lopez to replace Casillas, but when results once again deteriorated, he pointed the finger of blame at the keeper [The Guardian].
Ultimately, Casillas outlasted Mourinho at the Bernabeu, and had the last laugh when he won the Decima with the Blancos in 2014.
The manager, however, has clearly not forgotten the animosity that exists between the two men. Speaking to The Guardian [via the Daily Mail] when Casillas completed his move to Porto, Mourinho expressed his surprise at the 'amazing' salary the Portuguese giants had paid for the keeper.
Which of these two old rivals will have the final say when they come head to head in Casillas's record-breaking appearance on Tuesday evening?