Bacary Sagna has insisted that he and his Manchester City teammates were hard done by in their recent 4-1 defeat to Tottenham Hotspur on Saturday.
Spurs kicked off the weekend's fixtures with a convincing and comfortable victory over the then-league leaders in front of their own fans at White Hart Lane.
The Lilywhites fell behind to Kevin De Bruyne effort on 25 minutes as the Belgian international, receiving the ball from Yaya Toure, finished past Hugo Lloris. However, Spurs equalised just before the break, when Eric Dier finished from long-range.
During the second half, it was all one-way traffic. Toure was replaced at the break, and City's new-look centre-back pairing of Nicolas Otamendi and Martin Demichelis were suddenly exposed.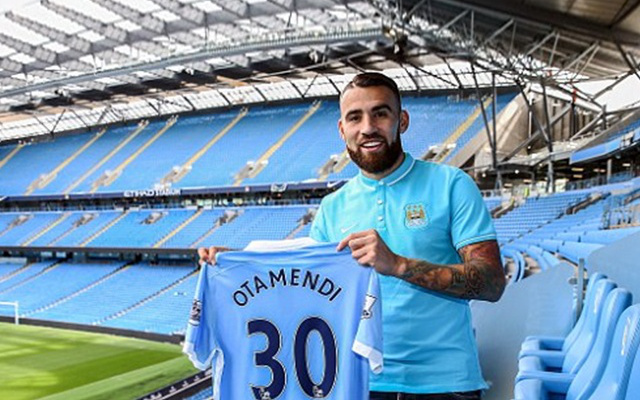 Otamendi | A testing outing at White Hart Lane
Spurs took the lead through Toby Alderweireld, before Harry Kane and then Erik Lamela extended the home side's advantage.
City, with Sergio Aguero muted in attack, failed to respond and fell to a 4-1 defeat—their second consecutive loss in the league following the shock 2-1 reverse against West Ham United.
Reflecting on the match in an interview with ESPN, City right-back Sagna insisted that the referee's decision to allow Dier's equaliser—despite Kyle Walker being in an offside position in the build-up—was a key factor in City losing the match.
"I think it changed the game," the French international began. "It's not an excuse but we were in control of the game, we managed to score, play well, as a team, to be compact and to create some chances. We should have killed the game.
"When we conceded that goal [it was] just before half-time, but it's not the reason to come back sloppy in the second half."
Sagna went on to admit that his side were at least partially complicit in their own downfall.
SEE MORE:
Chelsea plot €20m move to sign Barcelona wide-man to help resolve problem area
(Image) Chelsea captain John Terry spotted parking in disabled spot
10 best Premier League South Americans ever: Arsenal star Alexis Sanchez joined by Man Utd, Liverpool & Chelsea greats
"It was 1-1, we had to keep playing as a team, keep communicating. We lost too many duels on the pitch and against good players you can't do that.
"Everyone was upset [at the equalising goal]. We gave a lot to be 1-0 up and then to concede a stupid goal. Up until then we had done quite well so it was a bit frustrating.
"We had to keep playing as a team, keep some composure and we didn't have it. We were too nice.
"Maybe we have shown too much confidence. We had to keep working hard if we want to stay on top. We know we have the quality players to make a difference, we know we are a good team, we know we can be champions.
"But you also have to work well before you know that, to keep working hard. We had a good start, we want to keep positive."
City resume their Premier League campaign against Newcastle United on Saturday, but first, will have to negotiate Borussia Monchengladbach in the Champions League having lost their European Cup opener to Juventus.