Five reasons Mourinho is rightly the most hated man in football.
Chelsea's Jose Mourinho might be the best football manager in the world but he also has a well-deserved reputation for being snide, vindictive and sometimes downright offensive to anyone that crosses him – on or off the pitch.
The Special One may consider himself irreplaceable, but based on his history of foul behavior there aren't a whole lot of people who would miss the part of him that doesn't win all the time.
Here is a look at five of the worst incidents of Jose Mourinho's career that show he's not a manager or even a man worth shedding a tear for if he gets a pink slip:
SEE MORE:
Chelsea plan bid for midfield maestro with £29m release clause
Jurgen Klopp Liverpool manager: Dortmund hero ODDS-ON to replace Brendan Rodgers
Jose Mourinho explains Nemanja Matic substitution: He is not playing well but I didn't intend to humiliate him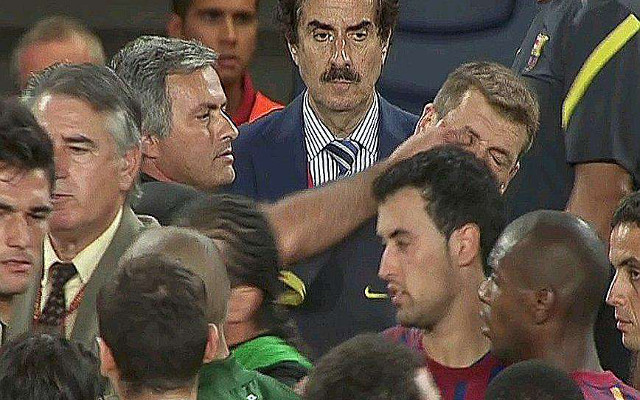 5. Mourinho's eye-poke of Tito Vilanova, 2011
In one of the more repulsive displays of sour grapes after losing to Barcelona, the Special One walked right up to then-Barca assistant manager Tito Vilanova and poked him right in the eye before nonchalantly walking away.