Francis Coquelin has been one of the best midfielders Arsene Wenger has developed in recent memory, and the stats following Arsenal's 3-0 win over Manchester United indicate he might just be the best in the Premier League.
According to the Metro, a chart of top defensive midfielders' performances revealed that Coquelin is better than the likes of Man United's Morgan Schneiderlin, Manchester City's Fernandinho and Chelsea's Nemanja Matic.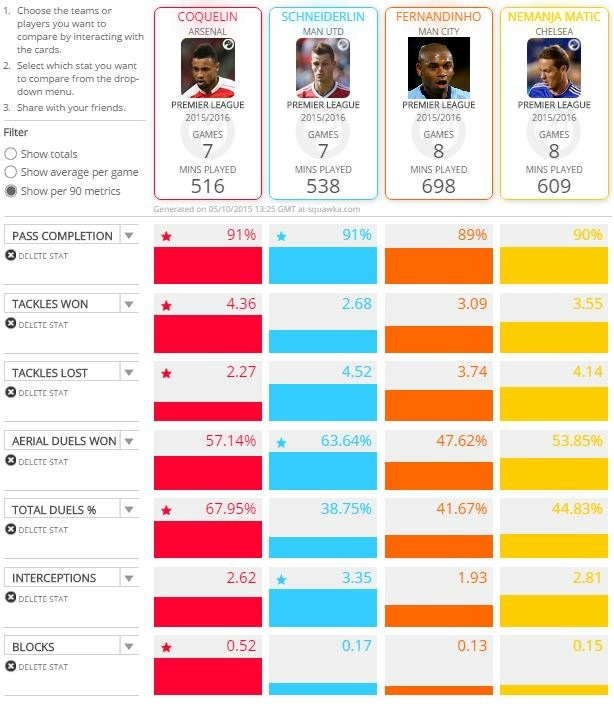 The chart is surely impressive, especially considering Coquelin has played between 22 and 182 minutes less than his Premier League rivals.
Clearly Coquelin is a better tackler than the others and is much better at winning duels for the ball. His blocking rate is also higher than all three of his foes combined.
The 24-year-old Coquelin got his big break with Arsenal last season after being a project player of Wenger since 2008. He made 22 league appearances and 30 total appearances during the 2014-15 season.
This season Coquelin has made seven appearances for the Gunners and has been one of the best players on the team. Coquelin was named Arsenal's Vitality Player of the Month for August after an impressive performance in the FA Community Shield game.
SEE MORE:
Arsenal bit-part player wanted by Juventus and Premier League strugglers
Manchester United legend comes out in support of Arsenal boss Arsene Wenger
Arsenal plan shock move to re-sign former Gunners midfielder in £15m deal