A study carried out by CIES Football Observatory has revealed that Arsenal star Mesut Ozil is actually the best attacking midfielder in Europe.
After overcoming a semi-regular stream of criticism over his form and effort since joining Arsenal just over two years ago, he is now starting to show that he is over the hump and has firmly established himself in the Premier League.
The CIES Rankings have found the Germany international to be the best AM in Europe, and have calculated their findings by taking everything including rigour, recovery, distribution, take on skills, chance creation and shooting into account.
Fellow Arsenal stars Santi Cazrola and Laurent Koscielny both made the list, coming out as Europe's top defensive midfielder and second centre-back respectively.
Meanwhile left-back Nacho Monreal has crept into the top 10 full-backs.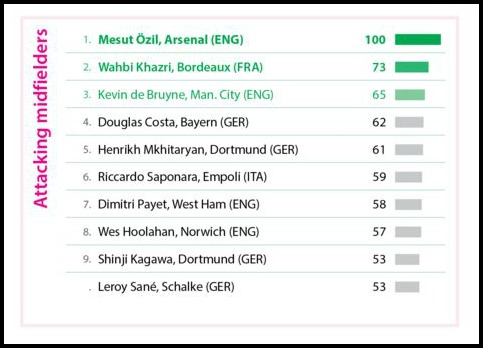 SEE MORE:
Chelsea great wants Stamford Bridge job; is this club legend heaping EVEN MORE pressure on Jose Mourinho?
Five Premier League clubs who NEED Chelsea legend Didier Drogba on loan
Chelsea holding out for £86m for high-profile Real Madrid transfer target