Football Manager 16 makes its debut this week and as always it's being met with a combination of elation and controversy: elation for the stars that get the highest stats and the controversy of other star players getting rated well below what the fans want.
Here's at Caught Offside we're ranking the best players in the game based on their stats in preparation for the big release.
Naturally, if you're unsatisfied with your current goalkeeper your options are few and far between.
Luckily, Football Manager 16 has offered several solid options in the free-agent market for you to quickly grab up to reinforce the defence for you. (It might behoove Chelsea boss Jose Mourinho to do the same, with the way Asmir Begovic has been playing these last few months since Thibaut Courtois went down!).
Here are the top ten free agent goalkeepers on Football Manager 16:
SEE MORE:
Liverpool star Philippe Coutinho vows to fight for place in Brazil starting XI
Wayne Rooney reveals he voted for Chelsea striker Diego Costa in PFA vote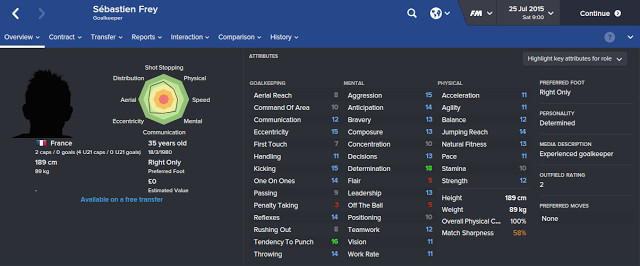 10. Sebastien Frey