While Liverpool fans were naturally thrilled with the Reds' 4-1 demolition of erstwhile league leaders Manchester City on Saturday, the victory was surely made all the more sweeter by the presence of Raheem Sterling in the opposing ranks.
The England international infamously sought a move away from Anfield during the summer, and attempted everything possible in order to get his way. Comments made by odious agent Aidy Ward about the club and legend Jamie Carragher ensured Sterling's long-term alienation from Reds fans, and transformed the former hero into a club pariah…even before he secured his move.
While Sterling has shone so far at City, he struggled against his former club on Saturday as Roberto Firmino and Philippe Coutinho delivered a masterclass to hand Jose Mourinho his second major victory over elite EPL opposition.
SEE MORE:
Liverpool Player Ratings vs. Manchester City: Who shone as Jurgen Klopp's side devastated the Citizens?
Manchester City player ratings vs Liverpool: 4-1 loss as Sergio Aguero's big return wasted
Barcelona player ratings vs Real Madrid: 4-0 win as Luis Suarez & Iniesta perfect in El Clasico ROUT
At this juncture, we felt it was a good time to remind Liverpool fans of this typically arrogant tweet sent out back Sterling back when he sealed his move to City.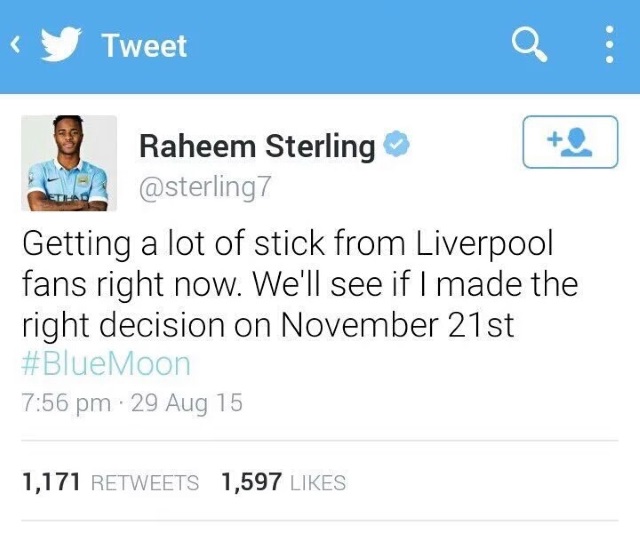 Who's laughing now, Raheem?