Chelsea owner Roman Abramovic has reportedly told his board to make a move for Bayern Munich superstar Franck Ribery during the January transfer window, according to the Daily Mail.
The story was initially covered by respected Mail journalist Matt Lawton, only it was quickly pulled because of a number of startling inaccuracies.
Lowton claimed Abramovic had ordered the "new" club Chief Executive Ron Gourlay to make a move for the 32-year-old with the Russian billionaire said to be keen on paying a stunning £45m to prize him away from the Alianz Arena.
However, Gourlay is the OLD Chief Executive, and hasn't been with the club since November 2014 – exactly 12 months ago.
A number of top outlets picked up the story and added it to their daily roundups, only to then realise the error and pull it from their streams.
We've managed to obtain a screen shot of the original report, as it gives a startling insight into how football transfer rumours or born.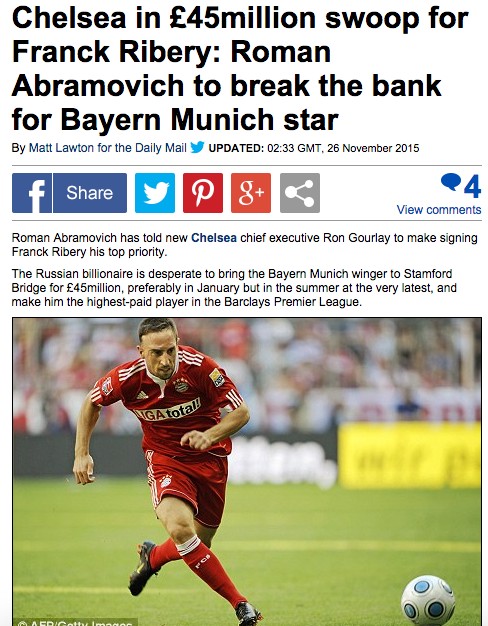 SEE MORE:
(Image) Manchester United goalkeeper tells the world he wants out of Old Trafford NOW
Chelsea close to deal for Boca Juniors superstar (not Carlos Tevez)
PSG could be ready to give up on Manchester United & Arsenal transfer target