Steven Gerrard has returned to Merseyside. The Liverpool legend is back training with his former club to keep fit while his current team, Los Angeles Galaxy, take a post-season break.
Gerrard's return created plenty of excitement at Melwood. Many players were keen to talk to the 114-time England international, who was kind enough to pose for this photo with a very poorly boy…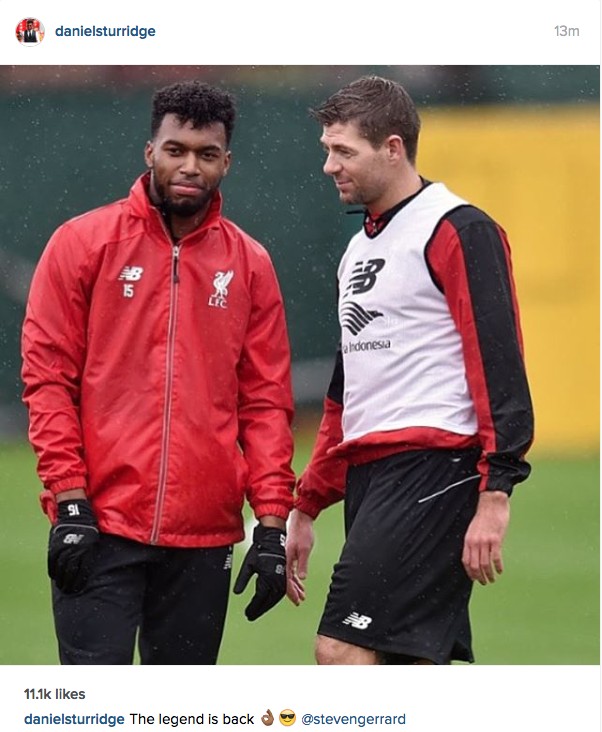 Daniel Sturridge and Gerrard both produced dazzling form during the 2013-14 season, almost helping Liverpool to their first ever Premier League title win.
However, since then, Sturridge has struggled horribly with injury.
The former Chelsea and Manchester City striker only started seven Premier League games last season. And he has only started three so far this term.
Sturridge did train well on Monday, which is good news for Reds supporters.
He didn't appear to he enjoying the Winter weather though. In the photo above, a gloved Sturridge is seen grimacing next to Gerrard, who is wearing nothing on his hands and a cheeky grin on his face.
Sturridge accompanied the photo with the message: "The legend is back".
SEE ALSO:
Liverpool and Everton want Real Madrid star on loan
FIFA Ballon d'Or shortlist revealed
Liverpool player ratings & report from Swansea win, as Sturridge & Henderson return!