Arsenal forward Joel Campbell has had to wait long enough to finally get an opportunity in the first team, and now that he's there he will do anything he can to stay there…even voting for himself to be Man of the Match.
Arsenal's official Twitter account offered up three different tweets featuring three different names of players who impressed during Wednesday night's Champions League clash with Olympiakos.
Fans then had to help cast the vote by retweeting who they thought was most worthy of the award, and the Costa Rican international thought he'd help the process along by voting for himself.
Very cheek indeed…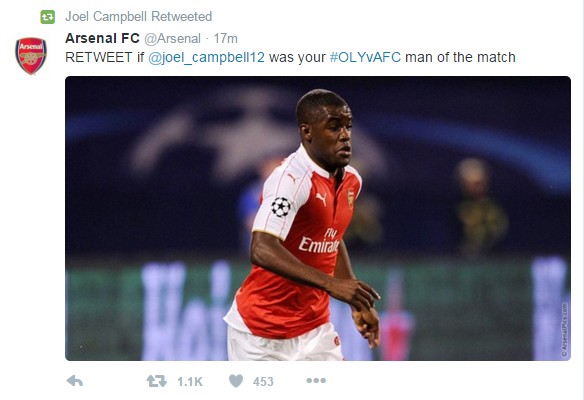 SEE MORE:
Monk Sacked: 5 Candidates to replace ex-Swansea boss, with ex-Liverpool, Man United coaches, Arsenal, Chelsea stars
Check out Raheem Sterling's dodgy new motor
Liverpool legend says Arsenal star is Premier League's best